IS200EPCTG1A | GE | Boards Mark VI IS200
IS200EPCTG1A | GE | Boards Mark VI IS200
33.0~66.0 USD
Min. Order:
1 Piece/Pieces
Place of Origin:
Fujian, China (Mainland)
Means of Transport:
Ocean, Air, Land
Product Description
IS200EPCTG1A | GE | Boards Mark VI IS200
Contact: Jessica
Moore Automation
Tel / Whatsapp:+8618030235311
Wechat: hu18030235311
E-mail: sales*mvme.cn (please change * to @)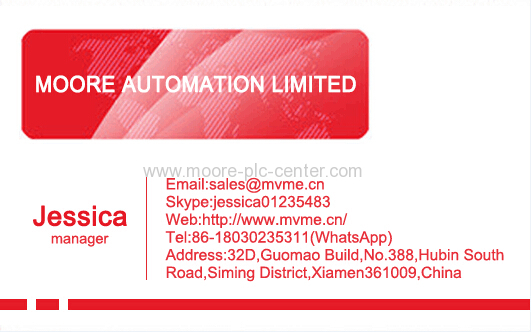 IC200ALG262 is a 15 Bit Differential Current Module with eight channels from GE Versamax. This analog input module offers an interface to eight analog current inputs that receive power from the backplane power supply. This means no external power source is necessary for module operation. However, power for the user's transceivers is required from an external source.
The IC200ALG262 has a single group of eight differential input channels with 15-bit converter resolution. The CPU or NIU performs the intelligent processing for this unit as the module provides eight words of analog input data. This unit reports a loss of power fault for field side circuits and open wire faults for every channel but only in 4-20mA mode. A jumper on the carrier terminal can be used to configure this range or the 0-20mA input range as needed, or the lack of a jumper cable will allow the module to use the 4-20mA range. Additionally, LED lights indicate power and proper functioning.
When first installing the IC200ALG262 module, carefully inspect all parts for damage. Do not use damaged parts as this may affect overall functioning. Analog channel connections should be created with shielded twisted pair cable with the cable grounded at the source device. However, if unable to ground at the source, then grounding at the I/O module is appropriate and can be done using the auxiliary I/O terminal. If this option is used, shield connections can be made on an auxiliary I/O terminal connected to the I/O carrier. If additional connections are required, an auxiliary I/O terminal strip can be utilized.
KJ1501X1-BC2
KJ3102X1-BA1
KJ3007X1-EA1
KJ3101X1-BB1
KJ2003X1-BB1
KJ1501X1-BC1
KJ3003X1-BA1
KJ3101X1-BB1
KJ2003X1-BA2
KJ4110X1-EB1
KJ3102X1-BB1
KJ3202X1-BA1
KJ4001X1-BB1
KJ4010X1-BF1
KJ3002X1-BA1
KJ4101X1-BA1
KJ2002X1-CA1 M5
KJ3001X1-BH1
KJ4001X1-CB1 12P0625X052
KJ4001X1-CC1 12P0733X042
KJ3001X1-BB1
KJ3221X1-BA1
IDA-JMB
PMCB11M1
KJ4002X1-BF2
KJ1501X1-BB1
KJ4010X1-BG1
BM11M1
| | |
| --- | --- |
| GE | DS215TCQAG1BZZ01A |
| GE | DS200TBQCG1ABB |
| GE | DS200TCCAG1BAA |
| GE | DS3800NGDD1C1B |
| GE | DS200TCEAG1BTF |
| GE | DS200DTBBG1ABB |
| GE | DS200DTBAG1AAA |
| GE | DS3800NGDC1A1A |
| GE | DS200TCPSG1APE |
| GE | DS200CTBAG1ADD |
| GE | DS200TCPSG1AME |
| GE | DS200DTBCG1AAA |
| GE | DS200PTBAG1ADC |
| GE | DS200CPCAG1ABB |
| GE | DS200TBCAG1AAB |
| GE | DS200TBQBG1ACB |
| GE | DS200TCQAG1A |
| GE | 369-HI-0-0-0-0 |
| GE | IC698CPE010 |
| GE | 531X307LTBAKG1 |
| GE | DS200FSAAG2ABA |
| GE | DS200FSAAG2ABA DS2020FECNRX010A |
| GE | DS200FSAAG1ABA |
| GE | IS400AEBMH1AJD |


if you have a large purchase, we can make a discount.
specifications:
new+original +one year warranty

---
---