M-2A-300 | TELEWAVE| POWER MODULE
M-2A-300 | TELEWAVE| POWER MODULE
1.0 USD
Min. Order:
1 Piece/Pieces
Place of Origin:
Fujian, China (Mainland)
Production Capacity:
55555
Packing:
New carton packaging
Product Description
M-2A-300 | TELEWAVE| POWER MODULE
Shipping Date:
· In-stock products: Same day shipping Mon. through Fri. by 6:00 pm EST
· Order products: Shipping date is specified in the Product Details page
Carriers:
· US Orders: FedEx, UPS,
· International Orders: FedEx, UPS, TNT, Express Mail International
* Blind Shipping is available for approved customer accounts
* Orders can be picked up at our Own Location
Contact:Jessica Skype:jessica01235483
Email:sales*mvme.cn (please change * to @)
Q Q:2851195444 TEL:86-592-5856209
Mobile Phone:86-18030235311(WhatsApp)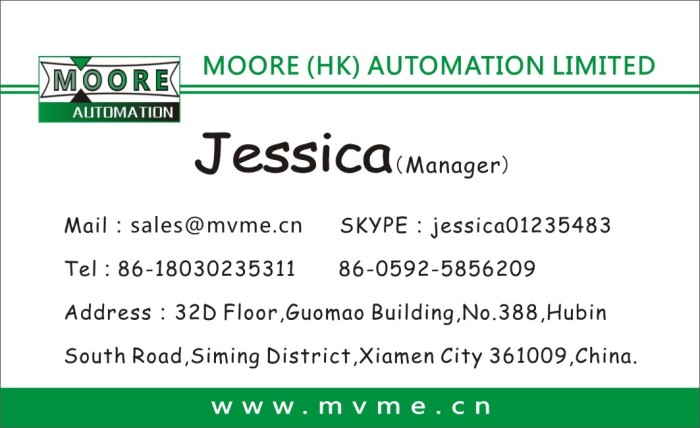 MOORE's large stock is the core of our supply.
Our large stock of industrial products is ready for delivery, which is the core of our supply. It contains more than 400,000 electronic products, such as PLC, HMI, drivers, servo and CNC devices, IPC and PG.
Whether new or out of production, from the smallest module to the complete configuration. We have products that have not been available for many years, the latest technology and all other products in between.
Market insight, technology development and customer demand enable us to buy strategically, so we seldom need to transfer business.
If items happen to be out of stock, we will search our preferred supplier network for you.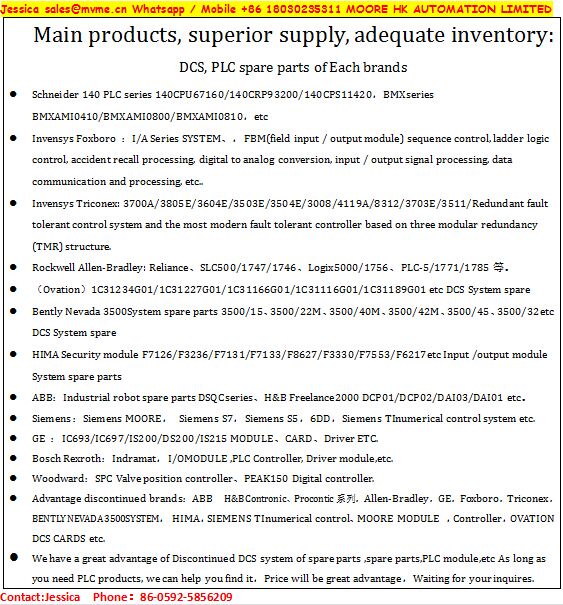 Applied Measurement GCD-121-500
Yokogawa LC82*B - AS S941
Symax / Square D 8030 RIM-122
Toshiba VFAS1-4015PL-WN1
Banner MGCB-5A
Bailey INBTM01
Rosemount 3051CD4A02A1BB3H2L4
Allen Bradley 1771-OMD
Bently Nevada 135813-01
Honeywell 621-0022
Modicon 140NOE77100
GE Fanuc F31X139APMASG2
Honeywell 621-0022
Siemens 3UF7010-1AB00-0
Foxboro P0972QM
Allen Bradley MPL-B210V-EJ42AA
Hirschmann OZD 485
Gould/Modicon C521
Wago 750-880
Siemens 505-6208-B
Allen Bradley 1756-L62
Schneider LV429807 Circuit breaker Compact NSX100N
Yaskawa CIMR-XCAC40P4
Hitachi EH-SIO Serial Communication Module RS-232C/422/485 I/F
Rosemount 644HFNAJ1B4M5Q4
Siemens 7ML5221-1BB11
Schneider SEA9BN12TNA
Yokogawa RB401
Drager 6809630
Scneider LV429211
Krohne IFC 010
Sixtrak ST-DO-RLY-06U
| | |
| --- | --- |
| GE | TGT-000A-4-0-AA |
| GE | TGT-000A-4-0 |
| GE | 78004654B |
| GE | MTR-3T45-H-R-0-M-0-A |
| GE | TGT-3X6L-1-0 |
| GE | TGT-S00N-1-1 |
| GE | TGT-3X6L-1-0-BD |
| GE | 78005196 TGT |
| GE | TARGET 78004654B |
| GE | 78004657 |
| GE | 78004654B |
| GE | TGT-3X6L-1-0-BD |
| GE | TGT-E000-0-1A 78005921A |
| GE | TGT-000A-4-0-CA |
| GE | TGT-S000-1-0 |
| GE | 78004655 |
| GE | IMC-4230-1-B IMC |
| GE | 71004638B |
| GE | SMJ-31GE-2-D |
| GE | TGT-DIOL32-0 |
| GE | TGT-AIOV-8-0-T |
Our company has many products in stock,which are immediately available.The warranty is 1 years which apply to all the new products.If you purchase one more parts from us,we can make a discount to you.
If you have any question pls do not hesitate to contact us.We can supply all kind of the automaiton parts,if you want to purchase parts pls send the parts model to my mail, I will prompt reply you.
Hope anyone enquire from us.
---
---