OM440 | OMEGA | POWER MODULE
OM440 | OMEGA | POWER MODULE
1.0 USD
Min. Order:
1 Piece/Pieces
Place of Origin:
Fujian, China (Mainland)
Means of Transport:
Ocean, Air, Land
Production Capacity:
55555
Packing:
New carton packaging
Product Description
OM440 | OMEGA | POWER MODULE
✈ Contact: Jessica
✈ Email: sales*mvme.cn (please change * to @)
✈ Skype: jessica01235483
✈ Mobile Phone: 86-18030235311(WhatsApp)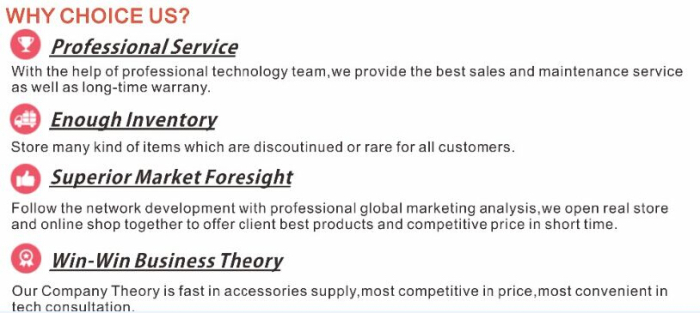 MOORE is a global sales organization engaged in industrial automation parts.
In the field of industrial automation, MOORE is committed to becoming the most reliable, wide range of parts and components, and the happiest partner in the world.
This means that our "trading is a transaction" attitude, unique knowledge and excellent customer service.
In order to achieve this goal, we will continue to innovate and invest in all kinds of shutdown parts solutions facing today's commercial market.
We provide industrial automation products for global customers. We currently serve more than 10,000 customers in more than 100 countries/regions.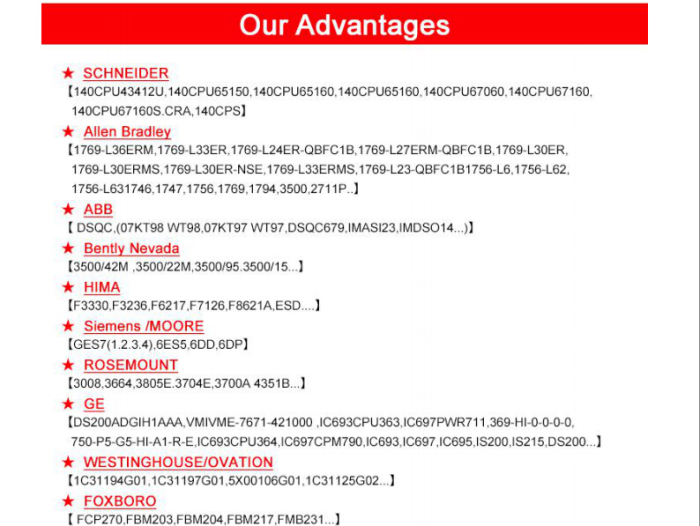 ABB Robotic Antriebsmodul DSQC346G 3HAB8101-8/14A
Indramat Drehstromservomotor MAC112C-0-HD-1-B/130-B-0/J00625/S005
Indramat Drehstromservomotor MAC90C-0-GD-4-C/110-L-1/WI524LX
Indramat Drehstromservomotor MAC112-0-ED-2-C/130-A-1//S05
FANUC Servo Amplifier Alpha iSV 10/20HV-B A06B-6290-H204
Indramat AC-Mainspindle TDA 1.3-100-3-API
FANUC Servo Amplifier aiSV 20HV-B A06B-6290-H123
FANUC Main Modul A16B-3200-0421/08E + A20B-8100-0470/10D
Siemens Simotics S Synchronservomotor 1FT6105-8AF71-3FH1
Cognex Netzwerkkamera IS5403-11 + RK3056-R/PF-BA
Bosch Rexroth IndraDrive HMD01.1N-W0020 CDB01.1C-SE-EN1-EN1-NNN-S1-S-NN-FW
Indramat AC-Controler DIAX04 HDS03.2-W100N-HS45-01-FW
Siemens Simotics S Synchronmotor 1FT7084-1AF71-1CG1
Bosch CNC NC SPS Board 1070048499-113 044340-2067
ABB Robotic Drive Module DSQC 346G 3HAB8101-8/14A
ABB Robotic Drive Module DSQC 346G 3HAB8101-8/14A
ABB Robotic Drive Module DSQC 345C 3HAB8101-3/10A
ABB Robotic Drive Module DSQC 346G 3HAB8101-8/15A
ABB Robotic Drive Module DSQC 346G 3HAB81C1-8/14A
Indramat Drehstromservomotor MAC112C-0-HD-1-B/130-A-0/4C/S005
Indramat Drehstromservomotor MAC112C-0-HD-1-B/130-A-0/-I00625/S005
KUKA Austausch / Exchange KCP2 Control Panel Teachpendant Ed05 00-130-547
KUKA Austausch / Exchange KCP2
KUKA Austausch / Exchange KCP2 Control Panel Teachpendant Ed05 00-131-239
| | |
| --- | --- |
| Honeywell | 900H01-0102 |
| Honeywell | 900P01-0001 |
| Honeywell | 51305381-500 |
| Honeywell | 51202329-402 |
| Honeywell | 51202329-212 |
| Honeywell | 51202335-300 |
| Honeywell | 51202329-606 |
| Honeywell | 51202329-616 |
| Honeywell | 51202343-001 |
| Honeywell | 51202329-112 |
| Honeywell | 51202329-732 |
| Honeywell | 51202329-602 |
| Honeywell | 51202329-202 |
| Honeywell | 51202329-102 |
| Honeywell | 51304465-500 |
| Honeywell | 51202324-300 |
| Honeywell | 51202324-100 |
| Honeywell | ACX631 51198947-100 |
| Honeywell | 51403519-160 |
| Honeywell | 8C-PCNT02 |
| Honeywell | 8C-PCNT02-C |
---
---