PFC2A-31 Plenty Of On Stock
PFC2A-31 plenty of on stock
666.0~999.0 USD
Min. Order:
10 Piece/Pieces
Place of Origin:
Fujian, China (Mainland)
Means of Transport:
Ocean, Air, Land
Packing:
New carton packaging
Delivery Date:
3 days after payment
Product Description
FANUC PFC2A-31 ABAH RX3I CPE 305 PACSystems CENTRAL PROCESSING NEW
Contact:Jessica
Email:sales*mvme.cn (please change * to @)
Phone:+8618030235311
Skype:jessica01235483
Wechat:hu18030235311
NEW+ORIGINAL+IN STOCK+ONE YEAR WARRANTY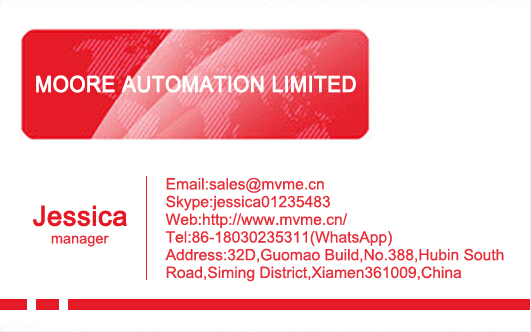 If you require more than one item, please let us know, as we could arrange a
discount for you.
If you manage to find the same parts cheaper through any other supplier, we
will match that price,or provide you with a further discount.
If you have any further questions, please don 't hesitate to contact us.
We look forward to your inquiries.
DS200SDCIG1AFB
DS200SDCIG2AFB
DS200SLCCG1AEG DS215SLCCG1AZZ01B
DS200SVAAG1A DS200SVAAG1ACB
DS200TCQBG1BCB
DS200TCRAG1ABC
DS215SLCCG1AZZ01B DS200SLCCG1AEG
DS3800DMPK1E1D
DS3800HIOA1C1E
DS3800HMPJ1A1D
DS3800HMPK1F1B
DS3800NDAC1D1E
DS3800NMEC1K1K
DS3800NPSE1E1G
DS3810MMBB1A1A
F31X134EPRBEG1
F31X134EPRBEG1 FR00/0
F31X134EPRBHG1
F31X139APMALG2FR00
F31X139APMALG2FR01
GE IC693MDL741C
HEC-GV3-DNG
IC200ALG230
IC200ALG260
IC200ALG322
Bosch Rexroth Versorgungsgert HMV01.1R-W0045-A-07-NNNN 45kw UNUSED OVP
BOSCH/Rexroth HCS02.1E-W0028 Antriebsregler + CSH01.1C-PB-EN1-ENS-NNN-S1-S-NN-FW
Bosch Rexroth Indradrive HMD01.1N-W0020-A-07-NNNN HMD01.1N-W0020 R911305062
BOSCH REXROTH R911265406 + R911274711, AC-Servo Controller - GENRALüBERHOLT
Bosch Rexroth 3 Stück 0821200191691 01
Bosch Rexroth, EcoDrive, DKC02.3-004-3-MGP-01VRS - Antriebsregelger?t MGP
Bosch Rexroth Versorgungsger?t HMV01.1R-W0045-A-07-NNNN OVP
BOSCH REXROTH INDRAMAT HCS01.1E-W0009-A-02 -B-ET-EC-PB-NN-NN-FW - R911328450
Bosch Rexroth HMV01.1R-W0018-A-07-NNNN HMV01.1R-W0018 18KW Neuwertig
Bosch Rexroth Versorgungsger?t HMV01.1E-W0030-A-07-NNNN GEB
Bosch Rexroth Indradrive M HMD01.1N-W0012
Bosch Rexroth Indramat Netzfilter Drossel HNK01.1A-A075-E0050-A-500-NNNN
BOSCH REXROTH INDRAMAT HCS01.1E-W0013-A-02 -B-ET-EC-PB-NN-NN-FW - R911328451
Bosch Rexroth Indramat Steuerung CCD01.1-KE12-01-FW
Bosch Rexroth Power Supply Netzteil 24V IndraControl VAP VAP01.1H-W23-024-010-NN
Bosch Rexroth Indradrive HMS01.1N-W0020-A-07-NNNN
Bosch Rexroth CFL01.1-R3
BOSCH REXROTH Almig Frequency Converter FECG02.1-11K0-3P400-A-BN-MODB-01V01-S001
We can ship the goods to worldwide by DHL/FEDEX/UPS/TNT/EMS or other best possible way. Please also contact us directly if you have preferred ways.

---
---