PROSOFT Modbus Module MVI56E-MNETXT
PROSOFT Modbus Module MVI56E-MNETXT
1.0 USD
Min. Order:
1 Piece/Pieces
Place of Origin:
Fujian, China (Mainland)
Means of Transport:
Ocean, Air, Land
Production Capacity:
88888
Packing:
New carton packaging
Product Description
PROSOFT Modbus Module MVI56E-MNETXT
Sale manager: Jessica
Skype: jessica01235483
Phone/WhatsApp: 86-18030235311
Email: sales*mvme.cn ( change * to @ )

Our company name: MOORE Automation Limited
Site: Xiamen, Fujian, China
Our main products: Allen Bradley , Bently Nevada , Honeywell , Triconex , Siemens Moore,ICS Triplex , GE Marke , Yokogawa
The Offers Team does its best to respond to offers in a timely manner. Typical turn-around time for an offer is 24 hours.
If you have a question about how to make an offer, or about an offer you've made; feel free to contact us, and one of our Customer Support Reps will be happy to assist you.
Our Promise To You
MOORE provides quality new parts along with quality on everything we carry. We offer a minimum one-year warranty on all products. Returns are accepted, although a restocking fee may apply. MOORE's 150,000 satisfied customers are a testament to our top-quality service.
Rapid Shipping
All stock items are shipped out the same day if the order is placed before 4PM Beijing We offer overnight shipping and can ship international as well.
Experienced Service
Established for over 15years, MOORE believes in providing the best quality customer service in the industry. As a factory automation wholesale distributor we offer and deliver products worldwide.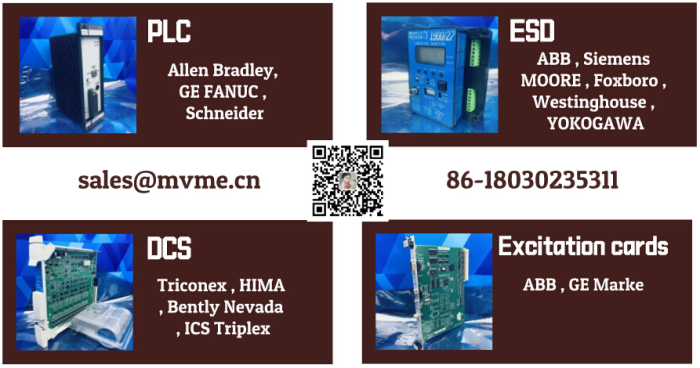 Q: Do you sell obsolete products? even very old products?
A: If there is new type to replace, we will suggest you to use new one; if not easy for change, we will help to check the old one with good condition. If used or other conditions, we will tell you the truth.
Q: How about Customs Duty & Handling Fee?
A: For all customers` orders, we do not charge handing fee, even 1pcs part. When parts arrive at your local custom, if the parts were charged customs duty, we are not responsible for any customs duties or import taxes.
Q: How long is your delivery time?
A: Generally 2-3 working days if the goods in stock. If large quantity, it will take 5-7 working days after getting the payment.
If not common products, always need 3-4 weeks or 6-8 weeks to order.
Q: Do you have samples? is it free or extra ?
A: No. i am sorry, we have no Sample.
Q: What is your terms of payment ?
A:TT (100% payment in advance if goods in stock; 30% payment in advance, balance before shipping if long delivery)
Jessica | sales*mvme.cn ( change * to @ ) | 18030235311

DCS modules:
1) AC800M series controller I/O module
2) AC800F series controller module
3) AC31 series controller module
4) 800xA series modules
5) Bailey INFI 90 module
6) DSQC robot module spare parts
7) Advant OCS system spare parts
PLC 3500 System Card,IC693,IC695,IC697,IC698 series
Siemens (Siemens):
1) Siemens MOORE
2) Siemens S5
3) Siemens S7 200series,300series,400series,so on.
Rexroth Indramat:I/O module, PLC controller, drive module

ABB DCF504B0060-000000X Excitation module
3ADT220120R1 FIS-3A ABB DCS400 Excitation module
3BSE004939R1012 ABB SDCS-PIN-48 Thyristor pulse board, trigger board, drive board
ABB DCS400 DC governor drive board SDCS-PIN-3B
SDCS-IOB-3-COAT. 3ADT220090R0020. ABB DC governor expansion module
Temperature probe (thermocouple) Z/B70 ABB DC governor temperature sensor
ABB HF3B. 600/1A Current transformer, original DC governor
EUPEC Thyristor module TT250N16K
DCS800 DC governor ABB SDCS-CON-4 Main Board
SDCS-PIN-48 ABB DC governor pulse board, trigger board
DCS800-S02-0075-05 ABB DCS800 Reversible 75A DC governor
SDCS-PIN-48 ABB DC governor trigger board, drive board
SDCS-CON-2B ABB DCD500/600 Main Board
3ADT751004P0003 ABB 75A DC governor current sensor
SDCS-AMC-DC-2 ABB DCS600 DC governor program card communication card
DCS800-S01-0125-05 ABB DCS800 DC governor
SDCS-FEX-425INT SDCS-FEX-4aCOAT ABB DCS800 DC governor excitation
DCS400-PAN-A(ACS400-PAN-A)ABB Governor panel
SDCS-PIN-41 ABB Removal of drive board and pulse board of DC governor
SDCS-FEX-4 COAT ABB DCS800 Excitation module of DC governor Main Board
SDCS-PIN-205B ABB DC governor pulse board, trigger board
DCF503A0050-00000 ABB Irreversible 50A excitation module
ABB Cable arrangement DCS800 DCS400 DCS500 DC governor wiring
VVZF70-16IO7 ABB Removing excitation module of DC governor
DCF803-0035 SDCS-FEX-4 ABB DCS800 External excitation module
ABB HIEE405246R0001(0002) card
W2E143-AA09-25 Fan ABB Disassembly of DC governor
ABB SDCS-AMC-DC DCS600 DC governor program card, CPU board
ABB SDCD-CON-2B
ABB DCS400 DC governor Main Board SDCS-CON-3A
SDCS-PIN-3A ABB DCS400 DC governor power board
ABB DCS502-0680-51 DC governor,680A Reversible DC governor
SDCS-AMC-DC-2 ABB DCS600 Communication board
ABB DCS502-0680-51 DC governor 680a DC governor
SDCS-PIN-41A ABB DC governor pulse board (trigger board)
ABB DCS602(502)-0680-51 DC governor 680a DC governor
SDCS-FEX-2 ABB Excitation board
If you have any PLC DCS inquiries, please contact us freely.
It will be a comfortable and happy business cooperation

---
---