ProSoft MVI46-MCM PLC Module
ProSoft MVI46-MCM PLC Module
33.0~66.0 USD
Min. Order:
1 Piece/Pieces
Place of Origin:
Fujian, China (Mainland)
Means of Transport:
Ocean, Air, Land
Production Capacity:
88888
Packing:
New carton packaging
Product Description
1 PC Used Prosoft MVI46-MCM Interface Module In Good Condition
Contact:Jessica
Skype:jessica01235483
Email:sales*mvme.cn (please change * to @)
Mobile Phone:86-18030235311(WhatsApp)
Q Q:2851195444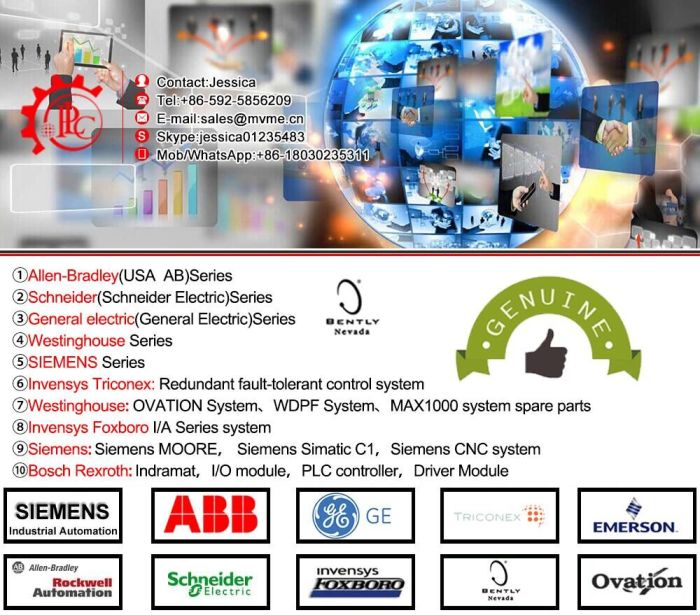 MOORE AUTOMATION LIMITED is a leading global supplier of control system components. We specialize in control systems and drives.
With many years of experience in the industrial sector, we consistently deliver the highest quality of spare parts.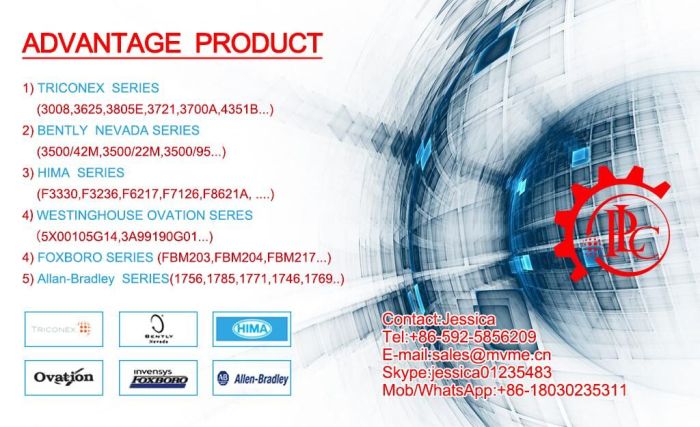 * Our mission is to help you!
* Reduced maintenance costs!
We have a large inventory of control system components. We also made a lot of new hardware and discontinued spare parts to help supporting your existing control systems.
We have experienced staff, extensive testing , all the spare parts which we sold are with warranty period of one year, and they have undergone rigorous testing and certification!
You might find you need spare parts in our data, we welcome you give valuable suggestions to us with our products at any time, .
We have a lot of spare parts in stock currently,they are ready to be shipped.
If you order more than one item, please contact us, we can offer further discounts for you.
If you find other suppliers offer cheaper prices for the same product, we are also willing to provide you with reference to their price and give you further discounts. If you have any other questions, please contact us at any time.
Waiting for your inquiry.
CP345-S1
RB301-S2
PW302-S4
AIP502-S1
F3BU13-0N
NFBU200 -S10
AAB841-S00
UT130-RN
F3YP18-0N
F3BL00-0N
F3PU20-0S
F3BU09-0N
F3SP28-3S
F3XP01-0H
F3XP02-0H
F3LC11-1F
F3XD64-3F
CP401-10
AAI841-S00
ADV551-P00/ATD5A00
PS31*A
F3YD64-1P
F3SP28-0S
AMM31T-S2
ADV551-P00/ATD5S-00
AAI141-S00 +ATA4S-00
F3YD14-5A
F3XD32-3F
AAI543 -S00 S1
ATA4D-00 S2
AAI143 -S00 +ATA4S-00
AAI143 -S00
AIP434-S1
CP133E-16-S3
AIP444-S1
ADV151-P00/ATB5S-00
AIP434-S1
K9403JA-02
AIP413-S1
AIP412-S1
RS71*C
RB401-S2
AIP412-S1
AIP444-S1
CP134E-00-S1
CP134E-16-S1
FC311-S1
CP334D-S3
CP133E-16-S3
CP133E-32-S3
CP133E-00-S1
CP133E-16-S1
NFDV157-S00
NFDV561-P00
NFDR541-P00
NFDV557-S00
YWP-AH /ASS9841DA-00 /S9840DA-00
NFCP100-S00 S3
NFAI135-S00
NFSB100-S00
NFPW442-10 S2
NFAI543-S00
S9610AT-01
ASS9791AT-0
AAM31 -S2
AMM52 S3
ASS9262AT-1
AIP512
AMM21 S2
AMM42T S2
AMM52T S2
AS-S9221DB /ASS9221DB-00 /S9221DB-00
EX1*A
S9940BG-02
MHC-60*A
AMM42 S4
AMM21T S2
MHM-60*A
PW402
ADM52 S2
AMM42 S2
AMM52 S2
AMM52 S4
ADM12 S2
ADM12T S2
AAM11-S2
EP1 *A
AMN32
AMM32
ADM12 S2
ADM52
AMN31
AMM32T
ADM12C
ADM52C
CP701
PW702
CP21*A
ADM11
AAM21
S9970DB-02/S9971DB
ADM51 -S4
AAT145-S00
AAV144-S00
AMM22J
AMN11
SI11*B
PS33*A
FC11*A
AAP135-S00
PS32*A
AAI543-S00 S1 +ATK4A-00 S1
CP11*C
DX11*A
S9981DE-01
EP3*A
ADM12C
AD5*D
EB501-10
PW482-10
PW482-10
EA1*A
ATD5D-00
ADV551-P00 S2 /atd5a00
SB401-10 S1
E9775BB-00
PSBCMNBN
EHO*A / EH0*A
ECO*A / EC0*A
ADV551-P00/ATD5A00
AAR145-S00
EC401-10 s2
AAT141-S00/ATT4S-00
M-1181-3
KS200-01
F3PU20 F3LR01 F3XD32 F3YD64 F3BU13
AAI143-S00 S1 +ATK4A-00
S9943AL
RM81*A
CP81B*C
NP54*C
MAC2*B
EH1*A
DP85*A
VM1*D
MX6*A
ST6 *A
DX112-1-2 6
BARD-400*A
AIP811
AMM12c/ADM52C
DV95*A
SI11*B
NC4* B
CENTUM-XL
AAM10
AAM50
ER5*B
SPW482-13 S1
AMM12/ AMM32 /AMM42/ ADM12/ ADM52
PEYER SG PI-120 CONTROL UNIT 100-240V, 50-60HZ, 80VA PI120 W/ PLUG
YASKAWA ELECTRIC USAREM-03BE2K AC
VARIAN DATA MACHINES DM288C PC BOARD 44P0506-000E 01P1065-002 REV. F
HONEYWELL 365754-8 SERVO MOTOR 11.5
HONEYWELL 620-0090 PROCESSOR RACK BACKPLANE 12SLOT
GENERAL ELECTRIC 4006L5036G001
SIEMENS 6ES7-326-1BK01-0AB0
DAYTRONICS 10BVS98 VIDEO
AUTOMATED PACKAGING SYSTEMS ASSY. 55742A1 PAL STEPPER DRIVE BOARD P/N: 55743A1
SY/MAX 8020SCP401 MODEL 400 PROCESSOR 30609-503-50 SERIES D 8020-SCP-401
THE CHALLENGE MACHINE CO. E-2248 PC
INDRAMAT DAE1.1 INPUT/OUTPUT CARD 109-0785-4B19-04 DAE1 DAE1.1
IKO YB1085-1735 BOARD YU1085-1739, PU1085-6483, YU1085-1779IKO
FANUC A16B-1212-0730/02B PC
DUKANE MODEL 110-4644 ETHERNET/IP
DANAHER CONTROLS HENGSTLER 0553167 ENCODER RI58-T/5EM.76KL
ALLEN BRADLEY 1336S-MCB-SP1
CUTLER HAMMER 92-01413-04 PANELMATE SERIES 500 IDT 542VM
NORDSON 7300403
SIEMENS 6ES5456-4UA12
REPAIRED FANUC A16B-1100-0310 PC BOARD BACKPLANE 9SLOT A320-1100-T314/04
OILGEAR L404563-709 SERVO
ABB YB560103-BN ROBOT COMPUTER CPU MODULE DSQC-230
TECHNIFOR UC200/E MARKING MACHINE CONTROLLER 50/60HZ, 120W,115-230V W/ CABLE
PEYER SG PI-120 CONTROL UNIT 100-240V, 50-60HZ, 80VA PI-I2 PI-12
PEYER SG PI-120 CONTROL UNIT 100-240V, 50-60HZ, 80VA PI-I2 PI-12 PI120
NIB GE FANUC IC630CCM310A I/O
EMERSON MOTION CONTROL PCM-3 3-AXIS (X-Y-Z) CONTROLLER PCM3P/N: 960019-01
GE FANUC IC600CM548K 8K LOGIC FAB. NO. 44A723621-001
REPAIRED ALLEN BRADLEY 2760-RB/A
YASKAWA SGDH-02BE SERVOPACK SERVO MOTOR SER D 100-115V 50/60HZ 5.2 AMP
CONTROL TECHNOLOGY 901B-2550
SAUNDERS AND ASSOC.INC 0000167-00 BOARD 0000166-04
FURNAS VEE ARC D84047-801 DRIVE WITH KEYPAD REV E D84047-003REV H
NIB CONTROL TECHNOLOGY 901B-2589-A
REPAIRED HONEYWELL 620-1532
HONEYWELL 3LC72 DETECTOR 3 LIGHT CURTAIN TRANSMITTER 9674412 72'' LENGTH
RELIANCE ELECTRIC 84543-108A PC BOARD 0-48652, UCC3 846656-VW/ 0-52015
NIB GE FANUC IC610CCM105D UL
RELIANCE ELECTRIC 107172-001X 84543-108A 0-48652
HUGHES LAN SYSTEMS A005119-04 REV. A HUB
NIB RELIANCE ELECTRIC 0-49026-7 TESTER PC
EMERSON PCM-15 PROGRAMMABLE MOTION CONTROL DRIVE MODULE 960113-01 FW-401168-01
NIB HONEYWELL 621-1160R 16 POINT 115VAC INPUT 16 POINT
FANUC A20B-8001-0620/01A INTERFACE BOARDA350-8001-T624/01
HONEYWELL DC3001-0-000-1-00-0111 TEMPERATURE CONTROLLER UDC3000 10AMP 120VAC
KEITHLEY MSSR-32 RELAY BOARD 32 CHANNEL 14071 REV C PC6432
HONEYWELL 60156198-005 PC BOARD BF2MZE W/ HONEYWELL 60144916-001
HONEYWELL LP920B-1003-2
NIB MALLORY POLLULERT MD221TJ HYDROCARBON DETECTOR 40732-05
NIB BAILEY 6636448B1 ANN DISPLAY SEL BOARD, 660-MISC-9621, 6636447B1, R315969
MIKRON MI-N300 INFRARED SENSOR 24VDC, 4-20MA, 0-200 DEG. C 586320
ALLEN BRADLEY 505V-COD SER. C SIZE 2 STARTER 115-120V, 60HZ
PENINSULAR CYLINDERS 030703 MOD. M1542A BORE: 63MM STK. 80MM
AVTRON M460-1D-240-C
EAGLE SIGNAL CP715L1 CONTROLLER CP715-4 PCP-1223, PCP-1222
NIB OMRON C200H-NC112
BALLUFF BTL5-E10-M0102-Z-S32
NIB METSO A413781 INTERFACE MODULE ALR2
ADEPT TECHNOLOGY INC MV-8 CONTROLLER RACK P/N 30330-15000 200-240V, 2.5A, 50/60H
NIB GROVE GEAR TMQ224 FLEX-A-LINE SPEED REDUCER 20:1 RATIO 1.82 IN HP, TMQ224-2
NIB WARNER M092-FC-301
HYDE PARK LM100 TRANSMITTER POWER MODULE W/ 81382-N 974201, 80165 3AMPS
NIB HONEYWELL 620-0041 MODULE 115/230VAC 47-63HZ
ENDRESS + HAUSER DC12TA-K11FC1BK71
NIB MAXITROL A44C0701-261 TEMPERATURE CONTROLLER 0-250 F,
AEG MODICON 140-CPS-214-00
SERVO DYNAMICS SDBDTL713-34 PART NO. 7300-8102
MTS AUTOMATION MPM891ASG6JN1N
SERVO DYNAMICS SDBDTL1325-34 PART NO. 7300-8110
SEALED GE FANUC IC693MDL240E
USON 4000 406B3X02 U17 SERVO AMPLIFIER SERIES 4000 CPU-640K
POLYSPEDE FSC-300 ADJUSTABLE
STI 43268-04 CONTROLLER LIGHT CURTAIN BEAM SPACING 4300B MODEL: MS4316B
MITSUBISHI MELSEC-Q QJ71BR11
GENERAL ELECTRIC 193X643AGG224
ABB ACCURAY 084903-001
CSI CONTROL SCIENCES INC. 168T389
ALLEN BRADLEY 1791-IOBX I/O MODULE 128 POINT 24VDC
SIEB & MEYER 26.39.27 AC-SERVO MODULE 263927, 26.39.058.2 REV. 3, B940429S
ACCURAY 2-085155-001 PC
GENERAL ELECTRIC 193X643AFG222 BOARD 193X643AFG
RELIANCE ELECTRIC 84543-108A PC BOARD 0-48652, UCC5 846656-X W/ 0-52015
MTS TEMPOSONICS RH10600URG01V01 R
ATLAS COPCO 4240031280 SERVO CONTROLLER QMS34025, QMS 340 25 340VDC 25A
ALLEN BRADLEY 1785-KE COMM CONTROL MODULE SER. B FIRMWARE REV. H P/N: 440019714
ALLEN BRADLEY 6156-AAZAAZAZAZ
FANUC A06B-0533-B551 3-0S AC
FANUC A16B-2200-0760/01A 2MB RAM FILE A16B-2200-0760
MIOX CORPORATION 402-01201-A-PCB, 402-01202-A-ASSY, 402-01203-A-MODULE 40201203A
ALLEN BRADLEY 1336S-MCB-SP1A
FANUC A16B-1210-0950/02A RF MAIN CPU BOARD A16B-1210-0950, A320-1210-T956/02


---
---