RELIANCE PSM-50 91013000E PSM50 91013000E Communication Module
RELIANCE PSM-50 91013000E PSM50 91013000E Communication Module
140.0~200.0 USD
Min. Order:
1 Piece/Pieces
Place of Origin:
Fujian, China (Mainland)
Means of Transport:
Ocean, Air, Land
Product Description
RELIANCE PSM-50 9101-3000E PSM50 91013000E Communication Module
Contact:Jessica
Skype:jessica01235483
Email:sales*mvme.cn (please change * to @)
TEL:86-592-5856209
Mobile Phone:86-18030235311(WhatsApp)
Q Q:2851195444
Moore has always been the best staff and spare parts together, a professional multilingual service team, insist on providing customers with first-class service.
Company's products cover distributed control system DCS card pieces, programmable logic controller PLC module SPS / CNC panel controller / drive / servo drives / robots and other parts.
Whether it's new spare parts, or outdated / discontinued parts Moore is committed to bringing the business back to business in the best cost and best quality possible way.
More than 100 excellent manufacturers, large spare parts inventory, adequate supply, faster customer support response
Partners across all continents and customers in 150 countries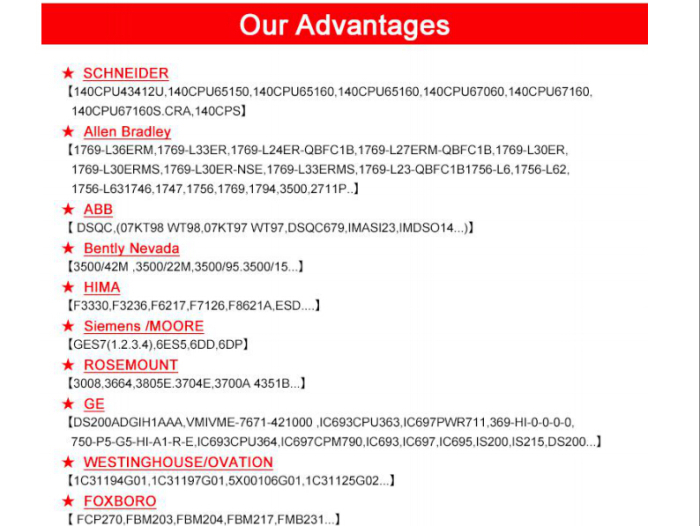 Payment Terms :
TT in advance ....
Shipment Terms :
Trading terms are Ex-works Xiamen
We will ship the goods within 3 working days after the payment received.
We can ship the goods to worldwide by DHL/FEDEX/UPS/TNT/EMS or other best possible way. Please also contact us directly if you have preferred ways.
After Service :
We offer guarantee of quality for 45-90 Days for all the parts we ship out .
1st, we will state the condition of the parts honestly when quote ;
2nd, we will test the quality of the goods before shipment ;
3rd, we will be responsilbe when the parts get in any problems .
Hope you enjoy the shopping !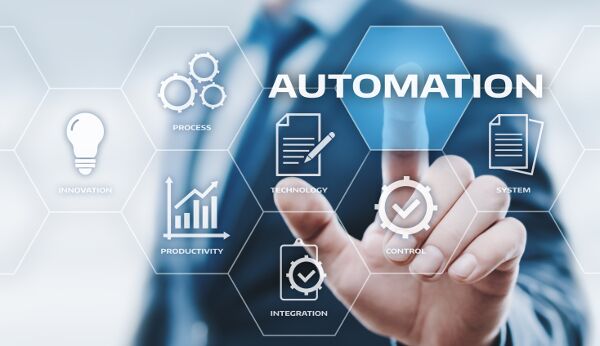 3130-0417 7004-0318
F34B2GM1
UD53
UNI1404
UNI1402
SE11200025
ISS1A
4314HR-312
4314R-353
7004-0170
UP14
IN80
UD35
UD31
UNI2403
UNI4401
GPD 2401
ES3401
ES2403
ES3401
UNI2402
UD35/ UNI3401
STDH14
ES2403
UNI2403
UD90A
UNI3401
V1850 1500
CDE550 CTS001
UNI3402
SFE1 SFE2
803.67.00
803.62.00
803.60.00
803.64.00
803.27.00
803.28.00
803.32.00
803.31.00
803.61.00
803.69.00
F930GOT-BWD-006
A970GOT-TBA-CH
F920GOT-BBD5-K-C
A985GOT-TBA+A9GT-RS4
A870GOT-EW
A7GT-BUS
A870GOT-EL-B
A8GT-PWEL
A8GT-70G0T-EW +A7GT-BUS+A8GT-PWEL
F930GOT-BWD
F940GOT-LWD-C
FX0N-24MR+F930GOT-BWD-C
FX-50DU-TK-C
FX-40DU-TK-ES
C500-BC061
C200H-PS221
NT-AL001
C200HS-ID212
C500-BC081 3G2A5-BC081
C200HW-PA204R
CS1W-BC083
C200H-BC051-V2
C200H-BC101-V2
C500-BC051/3G2A5-BC051
CPM1A-20EDR
C200H-BC081-V2
C200H-BC101-V1
CQM1-CPU41-E
Z4M-T30V2
CPM1A-40CDR-A-V1
SE-K4TN
CQM1-ID211
C200HW-PA204
CS1W-SCB41
C200H-PID03
C200H-AD002
C200H-LK201-V1
C200H-OC224
CQM1-OC221
CPM1A-40EDT
C200H-OD215
C500-CPU11-V1 /3G2C3-CPU11-V1
C200H-OC221
F180-C10
C500-SP001 /3G2A5-SP001
C200H-IA222
F180-C10
C200H-MD215
CQM1-PA203
CQM1-CPU11-E
CQM1-OD212
SYSMAC C60P
S82K-24024
CPU21-EV2
C500-II001/3G2A5-II001
C200HW-BC081-V1
6ES5491-0LB11+6ES5434-4UA12
6ES5943-7UB11
S7-200
58511001 3430003
FUM230/6DP1230-8CC
FUM210 6DP1210-8BA
FUM511 6DP1511-8AA
FUM280 6DP1280-8AA
FUM310 6DP1310-8AA
FUM210 6DP1210-8AA
6DR1410-0NJ91-1JN0+C73451-A347-B151
FUM232 6DP1232-8AA
FUM531 6DP1531-8AA
6DS1211 6DS1212 6DS1213 6DS1922 6DS4407
6ES5304-3UB11 + 6ES5491-0LB11
6DR5010-0NG00-0AA0
6ES5105-3RA31 6ES5935-3LA12 6ES5905-3RB11
PM8M26
6DS1701-8AB
6DS1703-8RR
6FX1-190-3AD00
6ES5927-3KA13
6DS1211 6DC1212 6DS1213
6DS1325-8AA
6DS1223-8AC
6DS1703-8AB
6DS1731-8RR
6DS1327-8AA
6DS1326-8BB
C79451-A3260-A25
C79451-Z1359-U9
6DS1901-8BA
6DS1701-8AA
6DS1844-8DA
6DS1312-8BB
6DS1330-8CA
C79458-L2197-A1
C79458-L2339-A1
C79458-L2225-B205
6DS1702-8AA
C79458L7000B18
C79458-L2270-A1
C79145A3054B808
6EA9643-3AA00-0AX0
C79458-L2350-A1
6ES5 985-4AA11
LBF2003396-R161
Swagelok SS-QC4-D-6M
SMC VQ1100N-5 / VQ1100N-51
ABB OXC1L36 Flexible Operating Cable 36" for T1-T5
Phoenix Contact UK 5 N Feed
Tuffloy Welding 651-5895-Tuff
SMC MGQM12-20
Festo AEVC-4-5 Short
DE-STA-CO 453
300B46FX1 BSI:23456-01 FLS 77306 142/165
Allen Bradley 1492-SP2C200
OMEGA MTC-5-FF
Balluff Photoelectric Sensors, BOS 18M-WS-7PB-B1-L, 20-250V
Numatics 031SA4004017N61 Max Pressure: 150 PSIG 236-220B 24V
619B-034D4 WATER INLET
Hoffman CP1616 Concept Panel Plate 78530
Yamatake HPX-H2
AEG Electrical Supply 7628-042.244 801 & 7268-042.244 800
Misumi LHKMCL25
Hoffman E2PBX Pushbutton Panel Enclosure 58130
Hoffman A808SC JIC Box Panel Enclosure 54220
Rexroth 901-HN1TF Valve Manifold Base w/ Hardware R32015316
Nanaboshi NCS-404-R
SFERAX SWISS 81420
Bimba F0-090.5-1MMT
Rexroth 901-HN1TF Valve Manifold Base P68425-01
MALLORY SONALERT SC110MN
Allen Bradley 800T-N310J
Lithonia Lighting LRP 1 RC 120/277
Hubbell HBL2456 Flanged Receptacle Insulgrip Twist-Lock 20A 3-Phase 277-480
Lithonia Lighting LRP 1RW120/277
Banner Engineering DEE2R-88D Cordset 72635
MCR Memphis VP3211 XXXL
Rexroth 3 842 210 685 Rocker with 3 842 346 516
Siemens 1P 6SE6400-3CC00-4AD3
White Rogers 129167-7430Z RELAY 250VAC 18A COIL 208/230V 50/60HZ
Mcmaster Housing Ring Internal 2-1/2 SS
Technifor Y Axis Detector For CN210C, SEMA002/327
Hoffman F66LA Telescope Fitting Lay-In Enclosure 18950
Fuju Photo Optical HF35A-2M1 Fujinon Lens TV 1:1.7/35
GC Solenoid Valve S211YF16E7DG4 24 DC Volts .375 Amps
Turck KB 6T-10 Micro Fast Cable U-00694
Phoenix Contact UT 4-QUATTRO-PE Din Rail Terminal Block 3044597
SMC Flow Sensor PFMV4505-1 W/ Mount
SMC NAFM2000-N02D-C
Hoffman A8P6 Panel Mount Plate 54770
SMC Flow Sensor PFMV505-1 and Mount
L-Com Global Connectivity CSMN50MF-25
Banner Mini-Beam SM312FP1H
Banner IT23SM900
Allen Bradley 889R-F6ECA-5
TURCK RSM WKM 46-3M U2290-40
Oriental Motor AXUD10A
Micro Switch FE7A-DA6V-M
SMC VHS30-03A 3-Port
F44LSAG 90 Angle Sealing Plate 18470
HONEYWELL 914CE3-9
SMC PNEUMATIC CYLINDERS NCDGBN20-0400 145 PSI 1.0 MPA
SMC VQ5101Y-5B
Numatics 062BA43AM/061RS700J000000 SOLENOID VALVE 120PSIG
Airtac 4F210-08
SMC Compact Cylinder CDQSL12NN-10DM
BANNER 45138 T18AW3DQ1 PHOTOELECTRIC SENSOR WITH BANNER MQAC-406
SMC AR30K-N03-Z
Parker 02F30C1108AAF4C01
ALLEN BRADLEY 1492-CB3 H080
MISUMI RBBW50-50-12
IDEC HW4L-M1F10QD W-24V
Idec HW1X-SO1
TURCK BC10-Q14-AP4X2-0.2M-RS4T
Mean Well PWM-60-24 60W AC-DC 24V
Allen Bradley 802X-A7
Phoenix Contact Typ UT 2,5 Gray Terminal Blocks 3044076
Phoenix Contact TYP UT 4-Quattro
Turck VB2-FSM 4.4/2RK 4T-1/1 Splitter U0100-7
Weidmuller 1300170023 Mini Chamge Attachable Connector 1A5000-34 Molex
Bosch Rexroth 3842541193 Pipe Clamps D28 N10
Banner ITA2.53P
SMC CDQ2A25-40DMZ-XC2 / CDQ2L25-40DMZ
New Brady R5200 LS2000 Series 5000 Ribbon for LS2000
PHOENIX CONTACT FLKM50-PA-AB/1769/OB32 Terminal Block Interface 2305936
FESTO HGL-M5 161779 Vent
Turck RKC 4.5T-5/CS14274 / U-72425 Straight 5-Pin M12
Wago 50036744 25 PIN D-Sub Mod Wago 2605 99144
SMC VHS30-03 3 PORT LOCK OUT VHS HAND VALVE
Allen Bradley 855T-B24DN3/855T-BVM/855T-B24DN4
ABB S282K16A
Stafford 8L014 Low Profile Steel 7/8" 2 PC Clamp Collar W/O 57072
Allen Bradley 1492-SPM1C100 Ser D 1492 SP C 10A
SMC AMC220-N02
FESTO NECU-G78G5-C2 NECU-G78G5-C2
Bosch Rexroth 3842524469 Aluminum Structural Framing Footplate 150X150X120
Turck U-00491 / PKG 6M-6
Allen Bradley 1734-OV8E DC
Allen Bradley 6 Pole Buss Bar, 1489-AMCL206 Ser. D
---
---