SERVOSTAR 403A-P S403A-PB | KOLLMORGAN | Digital Module
SERVOSTAR 403A-P S403A-PB | KOLLMORGAN | Digital Module
1.0 USD
Min. Order:
1 Piece/Pieces
Place of Origin:
Fujian, China (Mainland)
Production Capacity:
1234
Packing:
New carton packaging
Product Description
SERVOSTAR 403A-P S403A-PB | KOLLMORGAN | Digital Module
Type of payment: T/T 100% Payment in Advance
Lead time: 2-3 working days
Minimum order quantity: 1 piece
Quantity available: 88
Courier partners: DHL, UPS, TNT, FedEx and EMS
Warranty: one year
Technical specification, manuals and data sheets: Available on request
To get our best price & fast quotation, pls send us e-mail now.
✿ Contact: Jessica
✿ Email: sales*mvme.cn (please change * to @)
✿ Skype: jessica01235483
✿ Mobile Phone: 86-18030235311(WhatsApp)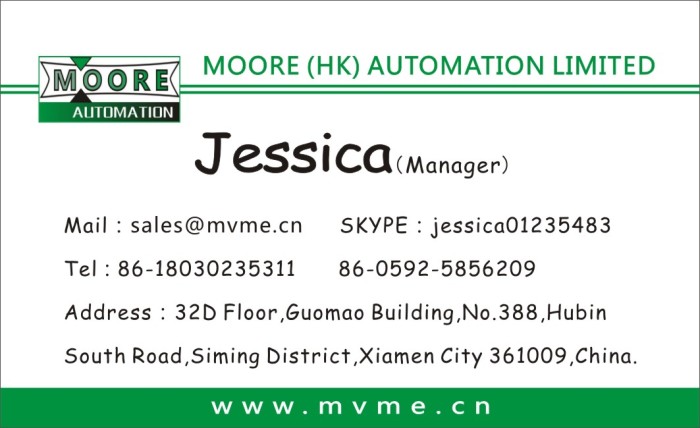 Our Mission: Make it easier for customers to buy industrial components
MOORE's goal is to become the "Standard" of the industry.
We are a global leader in B-to-B industrial components.
Globally, we enable our customers to buy components by responding quickly and effectively to their needs.It's easier.
Whatever their business is, our goal is to provide solutions that best suit their spare parts. By me
In our global business, our goal is to become a "Standard" - standard setter in our industry.
Warehouse facilities
MOORE has warehouse facilities in important regions of the world, so thousands of hard-to-find stops
We can deliver all parts.
All our parts have been thoroughly tested and provided with 12-month warranty and special after-sales support. whether
When you need it, we will always provide services to ensure that the process of purchase and purchase is as smooth as possible.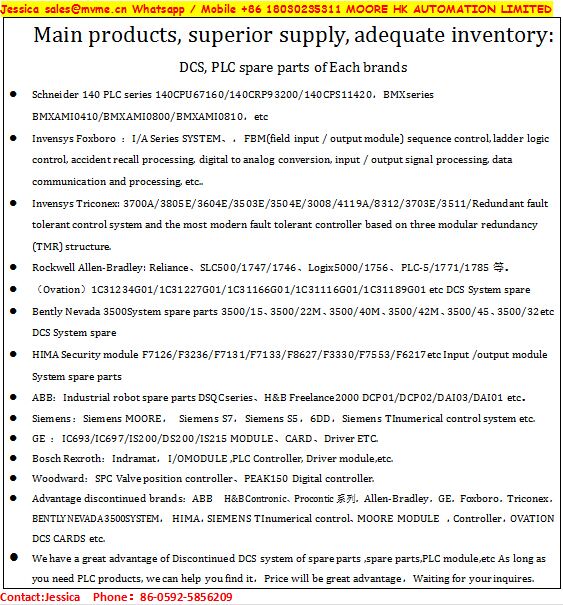 6ES7 195-7HB00-0XA0,6ES7195-7HB00-0XA0
6GK1901-0DB20-6AA8,6GK1 901-0DB20-6AA8
ET200S,6ES7 193-4CF50-0AA0,6ES7193-4CF50-0AA0
ET200S,6ES7 132-4BF00-0AA0,6ES7132-4BF00-0AA0
PS307,6ES7 307-1EA00-0AA0,6ES7307-1EA00-0AA0
G700-UMD16
6ES7 953-8LF11-0AA0,6ES7953-8LF11-0AA0
128kb,6ES7 953-8LG00-0AA0,6ES7953-8LG00-0AA0
6ES7 972-0BB51-0XA0,6ES7972-0BB51-0XA0
6ES7 953-8LG00-0AA0,6ES7953-8LG00-0AA0
ET200SP,6ES7 193-6BP00-0DA0,6ES7193-6BP00-0DA0
PEPPERL+FUCHS,RLK39-8-2000
ET200S,6ES7 131-4BF50-0AA0,6ES7131-4BF50-0AA0
6ES7 972-0BA12-0XA0,6ES7972-0BA12-0XA0
ET200SP,6ES7 131-6BF60-0AA0,6ES7131-6BF60-0AA0
PZE X4
FX2N-16EYT
6ES7 492-1CL00-0AA0,6ES7492-1CL00-0AA0
VF5220-5GB-03
A1S61PN
FS-R0
FX2N-8EYR
CJ1W-OD211
6GK1905-0AA00,6GK1 905-0AA00
| | |
| --- | --- |
| ABB | RS01 |
| ABB | MA01 |
| ABB | AV43 |
| ABB | AO801 3BSE020514R1 |
| ABB | AI801 3BSE020512R1 |
| ABB | AO810 3BSE008522R1 |
| ABB | TU811V1 3BSE013231R1 |
| ABB | AO801 |
| ABB | DSQC378B 3HNE00421-1/14 |
| ABB | SC610 |
| ABB | DSTX-W110 |
| ABB | XU03 |
| ABB | XN05 |
| ABB | VV11 |
| ABB | MM21 |
| ABB | LZ02 |
| ABB | LZ01 |
| ABB | DASA110 3ASC25H705/7 |
| ABB | SAMC11 POW |
| ABB | SDCS-CON-2B 3ADT309600R0012 |
| ABB | FI820F 3BDH000031R1 |
| ABB | DSTX120 57160001-MA/1 |
Our company has many products in stock,which are immediately available.The warranty is 1 years which apply to all the new products.If you purchase one more parts from us,we can make a discount to you.
If you have any question pls do not hesitate to contact us.We can supply all kind of the automaiton parts,if you want to purchase parts pls send the parts model to my mail, I will prompt reply you.
Hope anyone enquire from us.
---
---