SERVOSTAR 443M-P S403AM-PB | KOLLMORGAN | In Stock For Sale
SERVOSTAR 443M-P S403AM-PB | KOLLMORGAN | In Stock For Sale
1.0 USD
Min. Order:
1 Piece/Pieces
Place of Origin:
Fujian, China (Mainland)
Production Capacity:
1234
Packing:
New carton packaging
Product Description
SERVOSTAR 443M-P S403AM-PB | KOLLMORGAN | In Stock For Sale
Type of payment: T/T 100% Payment in Advance
Lead time: 2-3 working days
Minimum order quantity: 1 piece
Quantity available: 233
Courier partners: DHL, UPS, TNT, FedEx and EMS
Warranty: one year
Technical specification, manuals and data sheets: Available on request
To get our best price & fast quotation, pls send us e-mail now.
✿ Contact: Jessica
✿ Email: sales*mvme.cn (please change * to @)
✿ Skype: jessica01235483
✿ Mobile Phone: 86-18030235311(WhatsApp)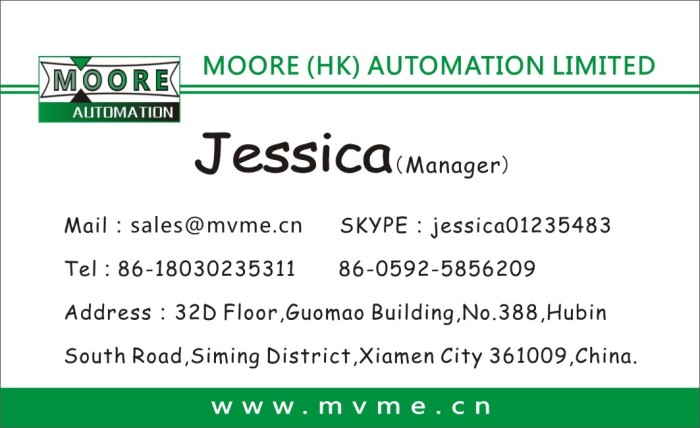 MOORE is committed to providing economic solutions for industrial parts and equipment. We can provide unparalleled value for quality products because we are a direct source. We strive to continuously improve the environment, and at the same time we are committed to supplying you with all the products at the supplier's price.
Why does it cost only a small part to choose a distributor who can quickly acquire the same parts? We have many years of collective and comprehensive knowledge and experience in industrial material management. This means that we can provide you with the greatest value and innovation for every spare part cost. We always ensure that your satisfaction is guaranteed.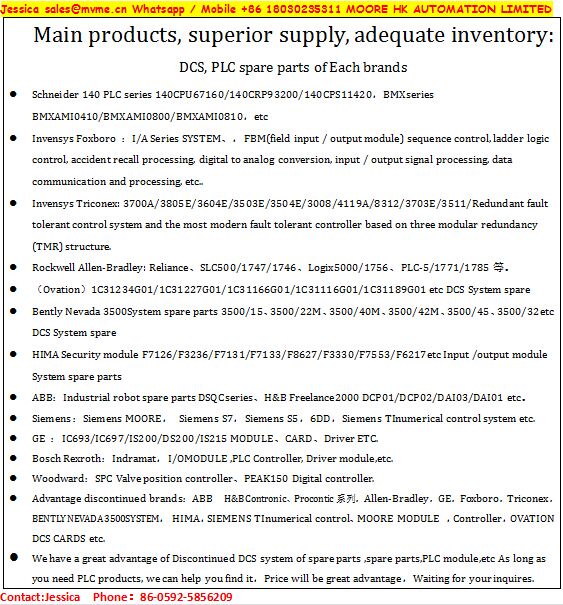 IM365,6ES7 365-0BA01-0AA0,6ES7365-0BA01-0AA0
6ES7 953-8LL00-0AA0,6ES7953-8LL00-0AA0
MOBY ASM475,6GT2002-0GA00
IM361,6ES7 361-3CA01-0AA0,6ES7361-3CA01-0AA0
ET200S,6ES7 151-1BA02-0AB0,6ES7151-1BA02-0AB0
6ES7 953-8LL11-0AA0,6ES7953-8LL11-0AA0
ET200S,6ES7 134-4MB02-0AB0,6ES7134-4MB02-0AB0
512MB,6AV6 671-8XB10-0AX1,6AV6671-8XB10-0AX1
AB ,1756-IB16/A,1756-IB16
SMART700,6AV6 648-0AC11-3AX0,6AV6648-0AC11-3AX0
SM322,6ES7 322-1HF10-0AA0,6ES7322-1HF10-0AA0
ET200S,6ES7 132-4BD02-0AA0,6ES7132-4BD02-0AA0
EM223,6ES7 223-1BL22-0XA8,6ES7223-1BL22-0XA8
SM321,6ES7 321-1BH02-0AA0,6ES7321-1BH02-0AA0
SITOP,6EP1731-2BA00,6EP1 731-2BA00
ET200PRO,6ES7 154-4AB10-0AB0,6ES7154-4AB10-0AB0
SM321,6ES7 321-1FH00-0AA0,6ES7321-1FH00-0AA0
ET200S,6ES7 135-4GB01-0AB0,6ES7135-4GB01-0AB0
BMXEHC0800
EM223,6ES7 223-1PL22-0XA0,6ES7223-1PL22-0XA8
CU240B,6SL3244-0BB00-1BA1,6SL3 244-0BB00-1BA1
SM1222,6ES7 222-1HH30-0XB0,6ES7222-1HH30-0XB0
SM322,6ES7 322-1HH01-0AA0,6ES7322-1HH01-0AA0
1794-IB16/A,1794-IB16
| | |
| --- | --- |
| ABB | SC510 |
| ABB | SAFT121 PAC |
| ABB | DSTX180 |
| ABB | 07DI92 |
| ABB | DSDI130 |
| ABB | DSAI145 |
| ABB | TC520 |
| ABB | DSQC346G |
| ABB | DSQC345B |
| ABB | PM860K01 |
| ABB | PCU-03 |
| ABB | DSQC354 |
| ABB | DSDO115 |
| ABB | CM30/000S0E0/STD |
| ABB | DSTD 110A |
| ABB | DSQC223 |
| ABB | DSDO 115 |
| ABB | 3HNM00272-1 |
| ABB | XV371A |
| ABB | DSQC643 |
| ABB | DSCS140 |
| ABB | 07EA63R1 |
Our company has many products in stock,which are immediately available.The warranty is 1 years which apply to all the new products.If you purchase one more parts from us,we can make a discount to you.
If you have any question pls do not hesitate to contact us.We can supply all kind of the automaiton parts,if you want to purchase parts pls send the parts model to my mail, I will prompt reply you.
Hope anyone enquire from us.
---
---