SIEMENS 6EP13322BA20 Power Supply Input
SIEMENS 6EP13322BA20 power supply input
140.0~200.0 USD
Min. Order:
1 Piece/Pieces
Place of Origin:
Fujian, China (Mainland)
Means of Transport:
Ocean, Air, Land
Product Description
Country of origin:
Germany
NEW SIEMENS 6EP1332-2BA20 power supply input
Contact:Jessica
Skype:jessica01235483
Email:sales*mvme.cn (please change * to @)
TEL:86-592-5856209
Mobile Phone:86-18030235311(WhatsApp)
Q Q:2851195444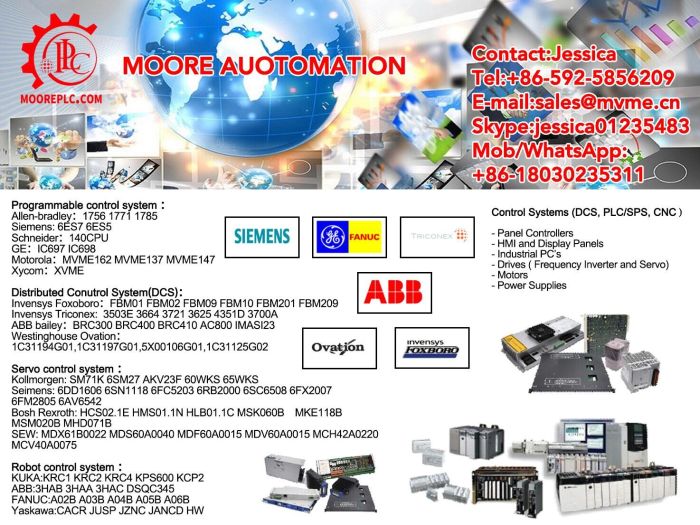 Moore Automation only do one thing to lead your unit automation device escort!
Moore Automation Co., Ltd. is focused on supporting you to install control systems and drives through spare parts service, surplus and drive control system components. We also distribute many new automation hardware to help support existing installations or use the latest technologies. We have a knowledgeable team that carries out extensive testing before shipping all our DCS PLC parts sold for 1 year warranty.
Moore Automation Drives Industry 4.0 No middlemen make any difference and spare no effort in finding spare parts solutions. To ensure that customers throughout the excellent supply of services
Moore Automation adheres to the business philosophy of "providing better equipment parts, faster service and more professional industry knowledge" to help your business resume its normal operation
We have supplied 969,704 automation parts to 57,1000 customers in 138 countries
With over 10 years' experience in the sales of spare parts for industrial control equipment, Mold Automation is the global leader in spare parts supply for automation and is dedicated to providing a wide range of accessories to customers worldwide. No matter what kind of electrical automation components you need, our experienced professional team will use Years of industry knowledge provide you with efficient spare parts solutions.
Moore automation team only does one thing to escort your automation units and industrial installations!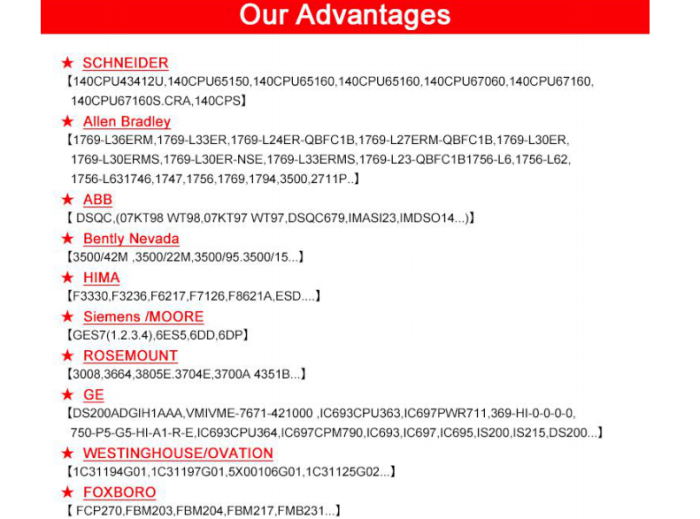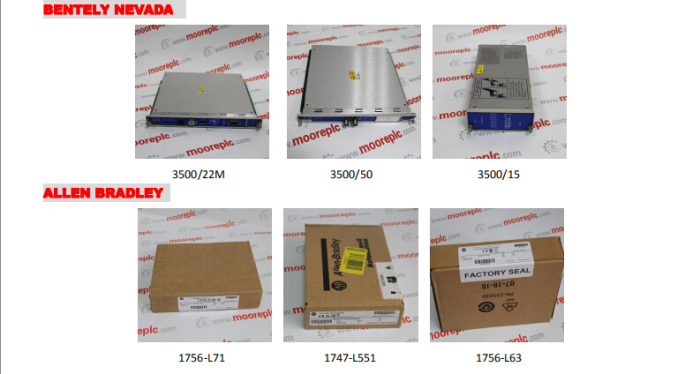 How do I get a quote?
Call me or send an email to ne We will quote as soon as possible!
Can you sell worldwide shipping?
Yes, we do a lot of business internationally and can ship anywhere
When will my order ship?
We will include delivery time estimates when sending quotations, but most orders will ship within 12 hours.
How to get tracking number?
The tracking number is sent automatically when we ship it.
Are new and re-installations available?
Yes, in most cases, we can quote your new parts and manufacturers to remanufacture parts.
Warranty Policy?
Warranty period of one year from the date of shipment warranty!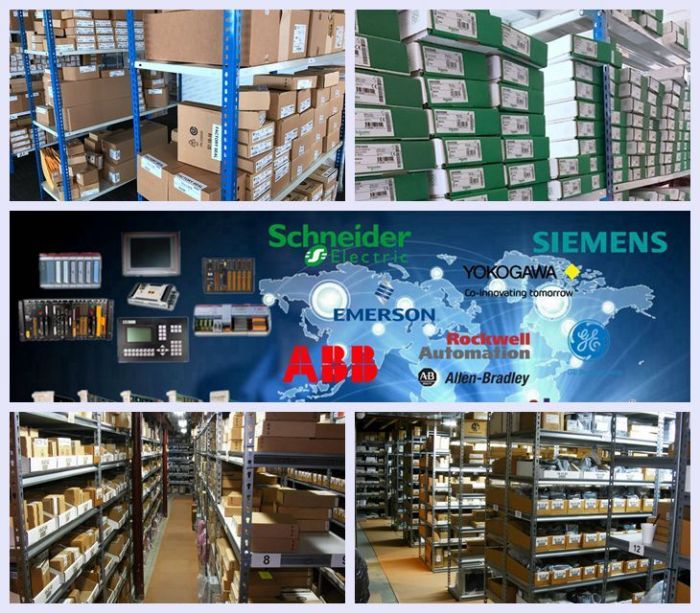 6AV3627-1QL01-0AX0
6AV3503-1DB10
6AV6545-0CC10-0AX0 TP270-10 4#
6AV6545-0CC10-0AX0 TP270-10 3#
6ES7272-0AA00-0YA0
6ES7272-0AA00-0YA0
6AV6642-0AA11-0AX1
6AV6648-0BC11-3AX0
6AV3627-1QL00-0AX0 3#
6AV3627-1QL00-0AX0 2#
6AV3627-1JK00-0AX0
6AV6545-0CC10-0AX0 TP270-10 2#
6ES7 616-2QL10-0AB4 + 6ES7673-6CC40-0YA0
6ES7272-0AA20-0YA0
6AV6545-0BA15-2AX0
6AV3617-1JC20-0AX1
6ES7673-6CC40-0YA0
6AV6542-0CA10-0AX0 OP270
6AV6542-0CA10-0AX0
6AV3535-1TA01-0AX0
6FC5503-0AC00-0AA0
FC5500-0AA11-1AA0
6AV6545-0CC10-0AX0
6AV6 542-0BB15-2AX0 2#
6AV6 542-0BB15-2AX0 3#
6FC5500-0AA00-1AA0
6AV3637-1PL00-0AX0 /5#
6FC5503-0AC00-0AA0+6FC5503-0AD00-0AA0
6AV6545-0AA15-2AX0
6AV3607-1JC00-0AX1
6EA1750-2AG01-0AA1
6AV3627-1QL00-0AX0
6AV3627-1QL01-0AX0
6AV3637-1LL00-0AX0
6AV3535-1TA01-0AX0
6AV3515-1MA01
6AV6542-0CC10-0AX0
6FC5500-0BA00-0AA0
127ATP112A011
6ES7272-0AA30-0YA0
SICOMP-PC32-F
FGM V1.0
FFM V1.0
CPUCP-S26361-D674-V
6AV6640-0AA00-0AX0
6AV3607-1NH00-0AX0
6AV6 640-0DA11-0AX0
6AV3627-1QL00-0AX0
6AV3647-2MM00-5GG2
6AV3637-1PL00-0AX0 TP37
6AV3637-1PL00-0AX0 tp37
6AV3515-1EB30-1AA0 OP15-A1
6AV7501-0BA00-0AA0
6AV3-607-1JC30-0AX1
6AG7102-0ABX0-1AC0
6AV3505-1FB01
6AV7501-0BA00-0AA0
6AV6542-0CA10-0AX0 op270
6AV3637-1PL00-0AX0 TP37
6AV6640-0DA11-0AX0
6AV6545-0BA15-2AX0
6AV3627-1NK00-2AX0
6AV6545-0BA15-2AX0
6AV3627-1NK00-0AX0
6AV8100-1BB00-0AA0
6AV3525-1EA01-0AX0 OP25
6SE9221-0DC40
6FX1133-0BA01
6FC5548.0AB25.0AA0
1FK7063-5AF71-1GA0
6se7022-6tp50-z
6FC5510-0BA00-0AA1
6SE7022-6TP50-Z
SKD62
6SC6112-2VA00
6SE7014-0TP50-Z
6SE1200-1EA70-1
6FC5510-0BA11-0AA1
6SN1146-1AB00-0BA1
6SE7090-0XP87-3CR0
6SE7014-0TP50-Z
6SE7014-0TP50-Z
6SC6130-0FE00 /A30
6SC 6110-6AA00
6SN1123-1AB00-0BA1 + 6SN1118-0NK00-0AA2
6SN1130-1AA11-0GA0
6SN1130-1AA11-0BA0
6SN1123-1AA00-0BA1
6SL3055-0AA00-5BA2
6FC5211-0BA01-0AA1
6SN1123-1AA00-0AA1
6SN1123-1AA00-0BA1
6SN1123-1AA00-0BA1+6SN1118-0AA11-0AA1
6SN1123-1AA00-0AA1+6SN1118-0AA11-0AA1
JBK3
6SE7016-1TA84-1HF3
1FT5074-0AC71-2-Z
6FX1130-0BB01
6FX1121-2BB02+6fx1134-2bc01
6SC6100-0BA00
6SC6120-0FE00
6FC5511-0CA00-0AA0
6FX1118-4AB01
6FC3984-3RA
6FX1121-4BA01
6FX1128-1BA00 +6FX1821
6FX1126-7BA01 + 6FX1134-2BC01
6SC6100-0NA11+6SC6100-0SA11
570-281-9002.03+6FX1852-1BX03-4B+6FX1852-1BX02
6FX1120-7BB01
6FX1120-7BA01+6FX1126-6BB00+6FX1850-0BX02
6FX1120-5BA01
6FX1130-6BA00
6FX1192-4AB00
6FC5503-0AC00-0AA0
6SN1111-0AB00-0AA0
6SN1118-0NJ01-0AA1
6FX1112-0AA02
C98043-A1319-L4
C98043-A1352-L2
6FX1121-4BA03
6FX1121-2BA03 +6FX1822-7BX00-3H
6FX1154-8BB01
A5E00158598
1FK6083-6AF71-1AA0
6SE7090-0XX84-0FB0/A5E00098837
6SN1123-1AA00-0DA1+6SN1118-0AA11-0AA1
6FC5510-0BA00-0AA1+6FC5511-0CA00-0AA0
6SN1114-0AA01-0AA0
6SN1145-1AA01-0AA2
P112A011
1FK7044-7AF71-1TG5
1FK6101-8AF71-1AB0
6SN1123-1AA00-0CA2+6SN1118-0AA11-0AA1
6SN1123-1AA00-0AA0 +6SN1118-0AA11-0AA1
6SN1118-0AA11-0AA1
6fc5503-0ac00-0aa0
6SN1118-0AA11-0AA0
1FK70425AF711EG0
6FX1-190-3AD00
6fc5503-0ac00-0aa0
6fc5548-0aa02-0aa0
1FT5066-0AF01-9-Z
6FC5548-0AA00-0AA0
6FC5510-0BA00-0AA0 +6FC5511-0CA00-0AA0
6SC6100-0NA01 462 010.9070.11
6FC5510-0BA00-0AA0 +6FC5511-0CA00-0AA0
6FC5503-0AD00-0AA0
620.0010.03
1FT5036-0AF01-9-Z
6FX1142-1BA01
6FC4100-1AA00-Z
6FC4600-0AR04
6FC4600-1AS01
AYDIN CONTROLS 4605647501AL , 91230591 , 362041080 , FSD-002 400-5647-002
GENERAL ELECTRIC GE IC3600SCBB1A
GENERAL ELECTRIC CIRCUIT IC3600LLDD1A 006/01
FISHER ROSEMOUNT ANALOG CURRENT O/P DM6421X1-A1
HONEYWELL TC-IDA161 A AC INPUT 120VAC PLC 97066477
CONTROL TECHNOLOGY 901C-2571 XMT
FISHER ROSEMOUNT MULTI-PURPOSE CONTROLLER II 10P50400006 REV. D/K
RELIANCE ELECTRIC DRIVER BOARD 0-57170-2 CA5000456
Bailey NLMM02
Marposs Circuit Board Card 6366140902 6840040091/A
Siemens Card 6FX1120-5CA00
GENERAL ELECTRIC CIRCUIT BOARD MTPD 20FEB84 E520-H430 E519-H430 E518-H430
ALLEN BRADLEY CIRCUIT BOARD 8600P0922 93279532-RB
GE DRAWING TRIP TSI LOW OUTPUT 1589K42G700
ABB ASEA CIRCUIT BOARD CARD DSPC157 57310001-GP 2668 184-238/2
ABB ASEA CIRCUIT BOARD CARD DSPC 157 ME7A 57310001-GP/1 2668 184-238/1
ABB ASEA CIRCUIT BOARD CARD DSPC 157 ME7B 57310001-GP/2 2668 184-238/1
ABB PC NPOW42-62c NPOW42
Yaskawa Positionpack-160A CPCC-PP160A
ALLEN BRADLEY CIRCUIT BOARD CARD 80165-658-52A 80165-658-52-R
ABB APGIC03 General Interface Board E-32235
WESTINGHOUSE CIRCUIT BOARD CARD 5879C88G01 Rev 17 1D77497H01 Rev 10
FISHER ROSEMOUNT IDI TERMINATION CL6922X1-B1 CL6922
WESTINGHOUSE Circuit Board 5879C98G01
GENERAL ELECTRIC GE IC600YB900A
GE Fanuc IC600YB942B IC600YB942 anoalog out -10 to +10vdc 44a717106010
ABB CIRCUIT BOARD CARD ASEA DSPC157 DSPC 157 OD 57310001-GP/2 57310001GP/2
FISHER ROSEMOUNT CIRCUIT BOARD PWA 01984-2731-0001 01984 2731 REV.E/F
ROSEMOUNT CIRCUIT BOARD CARD 01984-2731-0001 9024-0589
ROSEMOUNT CIRCUIT BOARD CARD 01984-2731-0001 9024-0585
FISHER ROSEMOUNT INT CL6922X1-KA4
FISHER ROSEMOUNT CIRCUIT BOARD 01984-2731-0001 01984 2731 REV. M/AB 9708-0026L
General Electric GE 44A719301-G01 44A717688-001R02/2
ROSEMOUNT CIRCUIT BOARD CARD 01984-2731-0001 SER.9023-0546
ROSEMOUNT CIRCUIT BOARD CARD 01984-2731-0001 SER.9022-1249
ROSEMOUNT CIRCUIT BOARD CARD 01984-2731-0001 SER.9022-1246
ROSEMOUNT CIRCUIT BOARD CARD 01984-2731-0001 SER.9022-1254
KAWASAKI CIRCUIT BOARD 50999-1760R05
INDIGO INTERFACE BOARD 118400221 REV P02 73651001B010001460547A25
ABB CIRCUIT BOARD CARD ASEA DSPC157 OD 57310001-GP/2 2668 184-238/1
GENERAL ELECTRIC GE CIRCUIT BOARD CARD 68A944807G1 REV.C P2
CONTIWEB NEW WEBDATA CIRCUIT BOARD CARD 913019604 3R791581C
GE General Electric IC660CBB902K
PANASONIC DV46S005LA2 DC13W DC24V
GENERAL ELECTRIC DS3800XJBB1A1A 6BA01
RELIANCE ELECTRIC 57459-1 61C542A 16
FISHER ROSEMOUNT CIRCUIT DM6361X1-A1-8 DM6361X1-A1
FISHER ROSEMOUNT CIRCUIT 10P54560001
Balance Engineering BMP1-520 BMP1520
Foxboro Board Card 2AX+AVS
BAILEY CIRCUIT BOARD NDCS03 6634045JI
ALLEN BRADLEY AB CIRCUIT BOARD 86001966X 9327928L 0S5441
GE IC3600 DRIVER IC3600LRDH1A IC3600LRD1
GENERAL ELECTRIC IS200TFBAH1ACB 6BA02 W/BICRON B8429
Siemens card board 6DS1222-8BA 115299
GENERAL ELECTRIC CIRCUIT BOARD DS3800XJBA 6BA01
GENERAL ELECTRIC DS3800DMEB1B1C 6BAO4
DSC COMMUNICATIONSSECURITY ESCD38X2AB
BAILEY INFI 90 INLIM03 CIRCUIT BOARD 660-MISC-3311
ABB Main Circuit Interface Board 61431390B 1/410564947
Yale chain hoist 1 ton 2000 lb 10' Chain Drop 5K48DC1A 3/4HP
GENERAL ELECTRIC IC600YB948A
GE FANUC IC600CB525K PLC
FISHER ROSEMOUNT CIRCUIT BOARD 01984-2731-0001
FISHER ROSEMOUNT CIRCUIT BOARD 01984-2731-0001 01984 2731 REV.E/F 9024-0578
FISHER ROSEMOUNT CIRCUIT BOARD 01984-2731-0001 01984 2731 REV.M/AD
Fisher Rosemount Disc I/O 41B5215X062 J CL6721X1-A2
EATON DYNAMATIC 31G/D/E96P
GENERAL ELECTRIC CIRCUIT BOARD CARD 44A392607-G02 44B395095-001
Bailey Network 90 Analog NAOM01
GENERAL ELECTRIC GE CIRCUIT BOARD 44A294554-G01
HONEYWELL BXCP153B-006 60133456-001 BCPUI52B-006 BCPMMU3B-003
Square D Sy/max Interface 8010 SFI-537 30600-516-53 A1
Yaskawa PC Board Card Module JANCD-HA03
SIEMENS C39228-A0108-A503 31E1698 CIRCUIT BOARD WITH C39228-A195-B8
GE IC3600 REV. COUNTER PC BOARD IC3600VRCC1A
FISHER ROSEMOUNT CIRCUIT BOARD DC6460X1-TA1
Semitool Output Board Card 16756 REV. B 2601800 260180006/00 16756-503-0397
Semitool Output Board Card 16751A 2601800 260180004/00 REV.B 16751-501-0016
GENERAL ELECTRIC TRAD5D 44B295453-002/3 44A294519-G02
FISHER ROSEMOUNT CIRCUIT BOARD PWR CONVERTER CP6701X1-FA1 41B6030
Fisher Parallel Buffer DM6003X1-GA2
FISHER ROSEMOUNT CIRCUIT BOARD CARD 0194-2731-0001 REV H/U
FISHER ROSEMOUNT CIRCUIT BOARD CARD 0194-2731-0001 REV E/F
General Electric GE Circuit IC3650SGDB2D 68A944666G1
GENERAL ELECTRIC BOARD 68A944790-C-P3 68A944790G1 REV. C
Best Power Circuit Board PCP-0121Z
ROSEMOUNT CIRCUIT BOARD 01984-2551-0001 9031-1015
---
---