SIEMENS 6EP1334-1SL12 Power Supply
SIEMENS 6EP1334-1SL12 Power Supply
140.0~200.0 USD
Min. Order:
1 Piece/Pieces
Place of Origin:
Fujian, China (Mainland)
Means of Transport:
Ocean, Air, Land
Product Description
Country of origin:
Germany
SIEMENS 6EP1334-1SL12 Power Supply
| | | | |
| --- | --- | --- | --- |
| MODEL | 6EP1334-1SL12 | PARAM DESCRIPT | Sitop Power 10 Power Supply |
| PRODUCT SIZE | 15.2 cm x 12.7 cm x 15.2 cm | STOCK | Ask Request Quote |
| WEIGHT | 2 lbs (1.1 kg) | SHIP FROM: | Ship from China,Xiamen |
| CONDITION | New and factory sealed | | |

Sale manager: Jessica
Skype: jessica01235483
Phone/WhatsApp: 86-18030235311
Email: sales*mvme.cn ( change * to @ )

Our process
Finding a reliable and experienced supplier of automated parts can be a daunting task.
MOORE cooperates with more than 90,000 customers in 165 countries and regions around the world. With the help of the industry's leading service, speed and knowledge reserves, it's easy to buy automated spare parts.
Our sales team is on standby to help you with any form of consultation. You can ask questions by e-mail, telephone or using our inquiry form on the product page and the Contact Us page.
Generate quotation
We will reply to you within an average of 30 minutes and offer competitive quotations. Then, we will contact you to ensure that you are satisfied with the quotation and delivery date.
Place an order
If you feel satisfied, you can place the order immediately. After placing the order, you can enjoy new parts and get them into your hands.
One of our most advanced warehouse facilities will process and package your spare parts to ensure that you receive them in good condition.
Delivery on the same day
Your spare parts are usually delivered on the same day. After you receive spare parts, our after-sales support team can answer any questions you may encounter after purchase.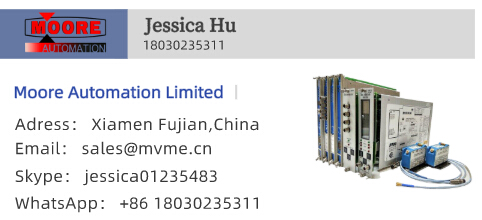 1)Quality is guarantee within 1 year from the date of shipment.
2)Pls inspects the goods carefully after you receive it. Any question, pls inform us 24 hours.
3)Pls take your time to use or test the parts, any quality problem, pls show the official test report and ship the parts back in the guarantee time.
4)Pls send your bank slip copy to us after your remittance.
Jessica | sales*mvme.cn ( change * to @ ) | 18030235311

Allen Bradley
1756-L62,1756-L63,1746,1747,1756,1769,1794,2711P..
SCHNEIDER
140CPU43412U,140CPU65150,140CPU65160,140CPU,NOE,CRA,CPS,BMX,TCSE....
ABB
DSQC(07KT98 WT98,07KT97 WT97,DSQC679,IMASI23,IMDSO14..
Bently Nevada
3500/42M,3500/22M,3500/95.3500/15...
HIMA
F3330,F3236,F6217,F7126,F8621AESD....
TRICONEX
3805E,3008,3504E,3624,3700A,3721,4351B,4119A.. ..
Siemens MOORE
6ES7(1.2.3.4),6ES5,6DD,6DP....
GE
IC693CPU363,IC697PWR711,IC693CPU364,,IC693,IC6 , 97,IC695,IS200,IS215,DS200...
WESTINGHOUSE
1C31194G01,1C31197G01,5X00106G01,1C , 31125G02 ...
FOXBORO
FCP270,FBM203,FBM204,FBM217,, FMB231.....
ABB Frequency converter ACS800 series Drive plate RINT-5411C
ABB Multi drive Frequency converter reactor ACS800 AOFI-69 L=15UH U=690V I=162A
ABB Frequency converter Power supply board AFPS-01C
ABB high pressure Frequency converter main board Interface board fiber board PD D405 3BHE041464R0101
ABB Frequency converter spare part AITF-01C
6SE6430-2UD42-5GB0 Siemens Frequency converter
Reynolds soft start JJR1160 main board Control panel CPU board 160KW
Rockwell AB-PLC 1756-0B32/A
ABB Wind power Frequency converter ALCL Filter capacitor MP9-20919J 3*54UF 690VAC/1100VDC
Hekang unit Control panel 012.UT0000.03
Hitachi Frequency converter SJ300-075HFE 380V 7.5KW
VACON PC00459G 460J 459J Frequency converter Trigger board
ABB Fan acs800 Frequency converter R2E225-BD92-12
High pressure Frequency converter Power unit XH:450KW/10KW
INVT high pressure Frequency converter Interface board of main control signal board detection board HS-ES 3550-ES02
ZINVU-35/17D1-69C-B Zhiguang High voltage inverter Power unit 10KV 6KV 35A3
Robin conn High voltage inverter parts / Power unit Drive plate S/N:L08060877
ABB Frequency converter ACS800-04M-0170-3+P901 110KW/132KW
ACS800 Communication board AINT-02C ABB Frequency converter
Inovance High voltage inverter Interface board CPU plate Main control board HD90-C1-MCB1
Inovance High voltage inverter Interface board Main control board HD90-C2-IOB1
Inovance High voltage inverter Interface board Main control board Optical fiber board HD90-C1-FB1
A5E00412608 Siemens Frequency converter Rectifier board trigger board 132/160/200/250KW Charging board
Siemens High voltage inverter IO plate A1A10000423.00M
AB Soft start mainboard Control panel RA41-000063 40891-730-01
ABB Frequency converter ACS510 1.1KW ACS510-01-03A3-4
ABB Frequency converter 2.2KW ACS510-01-05A6-4
Vacon Frequency converter SCR trigger board Starter board Charging board 460J PC00460 660V 500V
Lidford High voltage inverter Master controller Interface board Communication board Q/BLH5.561.018C
Lidford High voltage inverter Master controller main board CPU plate Communication board Q/BLH5.558
ABB medium voltage Frequency converter ACS800 IGBT module AGDR-76C FS300R17KE3
New scenery High voltage inverter Main control board main board Interface board CPU plate GBP004 V1.2
Meiden High voltage inverter Power unit Drive plate Control panel Power supply board N62P30580 1/5E
Danfoss Frequency converter Drive plate Power Supply 130B6062 2/2 DT9
ABB Frequency converter Axial flow fan ZIEHL-ABEGG RH56E-4DK.6N.1R 230/400V 2.5KW
TD2100-4T0075S Emerson TD2100
ABB Fan Frequency converter ALCL Filter capacitor MP9-20919J 3*54UF 690VAC/1100VDC
ABB Frequency converter ACS880 Power supply board Drive plate ZINT-592 3AUA000103603
Xinshida High voltage inverter Power supply board PROD0904IV1 AS.H33/A
ENZELenze Frequency converter EVF8222-E-V020
Jessica | sales*mvme.cn ( change * to @ ) | 18030235311

---
---