SIEMENS 6ES7407-0RA02-0AA0 POWER SUPPLY 120/230V UC 5V DC/20A
SIEMENS 6ES7407-0RA02-0AA0 POWER SUPPLY 120/230V UC 5V DC/20A
140.0~200.0 USD
Min. Order:
1 Piece/Pieces
Place of Origin:
Fujian, China (Mainland)
Means of Transport:
Ocean, Air, Land
Product Description
Country of origin:
Germany
SIEMENS 6ES7407-0RA02-0AA0 POWER SUPPLY 120/230V UC 5V DC/20A
| | | | |
| --- | --- | --- | --- |
| MODEL | 6ES7407-0RA02-0AA0 | STANDBY MODEL | 6ES7407-0RA02-0AA0 |
| PRODUCT SIZE | 22.9 cm x 5.1 cm x 27.9 cm | PARAM DESCRIPT | PS407 Power Supply |
| WEIGHT | 3 lbs (1.4 kg) | STOCK | Ask Request Quote |
| CONDITION | New and factory sealed | ADDITIONAL INFORMATION | 6ES7 407-0RA02-0AA0 PS407 Power Supply 120/230 VAC, 20A |
| TARRIFF CODE | 8504409520 | COUNTRY OF ORIGIN: | Germany |
| SHIP FROM: | Ship from China,Xiamen | | |

Sale manager: Jessica
Skype: jessica01235483
Phone/WhatsApp: 86-18030235311
Email: sales*mvme.cn ( change * to @ )

Are you looking for cost savings and more effective optimization of spare parts purchasing process?
Through e-commerce promotion, we can optimize your purchasing process.
To reduce your direct and indirect costs. Provide a series of links to any spare parts you need. In addition, we have established links with more overseas suppliers.
Our e-commerce consultant will be happy to discuss with you your demand for spare parts.
+ Usability, +Responsibility: Our first task is your satisfaction!
Our supply chain platform ensures optimal delivery of industrial parts cycle.
Our Mission: Make it easier for customers to buy industrial components
Vision :Reliable Global Supplier of Industrial Spare parts
Purpose:MOORE's goal is to become the industry's "Standard"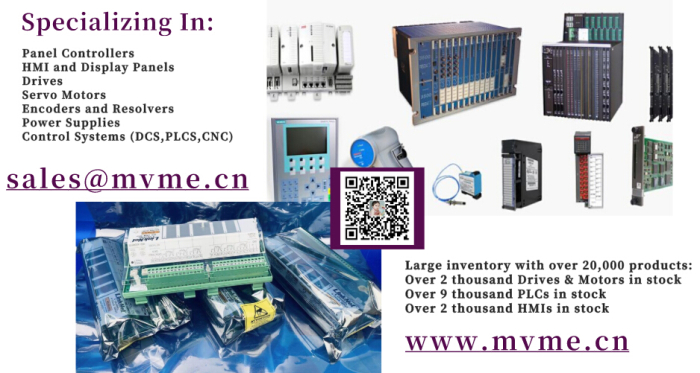 1.Q:How about the warranty?
A:All goods have 1 year warranty.
2.Q:What about the delivery time?
A:Normally in 1 Week.
3.Q: Other suppliers have a better price than yours?
A:"To create the greatest benefit for clients is our belief, if you have a better price, please let we know. We will try the best to meet your price and support you.
4.Q:What about the shipment?
A:We can arrange shipment by DHL, FedEx, UPS,TNT, EMS with competitive price, of course, customers can also use their own freight forwarders.
5.Q:How about the terms of payment?
A:Generally through T/T, Paypal and Western Union also accept.
6.Q: Does we keeps goods in stock or only trading?
A: We have large warehouse for goods. Keep lots of goods in warehouse, so could promise fast delivery
Jessica | sales*mvme.cn ( change * to @ ) | 18030235311

----(DCS)Distributed Control System
ABB/Invensys Foxboro/Invensys Triconex/Westinghouse/Woodword/HIMA/Yokogawa/Honeywell/Emerson
----(PLC)Programmable Logic Controller
Rockwell Allen-Bradley/Schneider Modicon/GE Fnauc/Siemens/Prosoft/Bachmann/Woodhead
----(TSI)
Bently Nevada/EPRO/ENTEK

AB700 Frequency converter RS485/MODBUS Communication board /20-COMM-S 20-COMM-D
Inovance High voltage inverter touch screen monitor control panel IT5070E
Zhiguang High voltage inverter Main control board main board CPU plate HVFCPU34
Yaskawa Frequency converter CIMR-G5A4015 15KW-400V 616G5 Frequency converter
INVT High voltage inverter touch screen keyboard panel TPC1063E
Lenze Frequency converter EVF8203-E
Lenze Frequency converter EVF8217-E 7.5KW
Siemens Frequency converter /6SE6420-2UC17-5AA1/0.75KW/ single-phase 220V
ABB Soft start PST/PSTB main board Drive plate 1SFB536071G1001
Hekang High voltage inverter Signal board 502.SY0003.06,080907057
Xinshida High voltage inverter Control panel PROD0904FV3 AS.H31/A
Hekang High voltage inverter rectification plate (A03) 602-AD0001-01
ABB Frequency converter ACS880 Absolute value pulse encoder interface module OY FEN-11
Hekang High voltage inverter Master controller Optical fiber board 502.SY0102.01
ABB ACS510-01-195A-4 110KW
Zhiguang High voltage inverter Power unit Drive plate Control panel HVFDRV35B
AB Frequency converter PF700 series Trigger board Drive plate 193209-A03 193209-A08
Fuji G9 15kw Frequency converter FRN15G9S-4JE/4CE
G120 6SL3224-0BE23-0UA0 3.0kw
AB Frequency converter PF700 Power supply board 319433-A02
ABB Frequency converter ACS800-07 rectification module Control panel DSSB-01C DSSB-01
Danfoss Frequency converter VLT5000 Drive plate Power supply board 176F1116 175L3260 18107B
Reynolds Soft start JJR1000 JJR2000 Main control board Control panel CPU plate 160 132 115KW
ABB Frequency converter ACS800 Interface board Expansion board AGBB-01C 68242835 B 1/4
Danfoss FC-302P5K5T5E20H2XGCXXXSXXXXAXBKCXXXX
2945007302 Delta Frequency converter Drive plate main board VFD-F
Hekang High voltage inverter Main control board Power supply board Current configuration board 502.SY0001.03
Zhiguang High voltage inverter main controller Communication board Interface board Master controller HVFOUTP31
Siemens Frequency converter G120 Power supply board Capacitor filter board A5E00496050/A5E00496081
Fuji Frequency converter FRN160F1S-4C 160KW
OTS main board 13RU47349
AB Frequency converter PN-342279
A5E00412608Siemens Frequency converter Rectifier board trigger board 132/160/200/250KW Charging board
AB Frequency converter PN-34227
Vacon Drive plate 526P PC00525H
Frequency converter Haili electrolytic capacitor Hicon 400V 10000UF
AB 314066-A05 Inverter Power Board
Schneider Frequency converter 61 series 250KW Power supply board PN072128P4
ABB Frequency converter /dscb-01c
ABB ACS800 Rectifier reactor DCHO-7D-280 3INP280/0.120 120UH 280
Vacon Drive plate 530I VACON PC00528D
Any question, contact us freely.

---
---