SNAP-AIMA-I | OPTO22 | Input Module
SNAP-AIMA-I | OPTO22 | Input Module
1.0 USD
Min. Order:
1 Piece/Pieces
Place of Origin:
Fujian, China (Mainland)
Means of Transport:
Ocean, Air, Land
Production Capacity:
55555
Packing:
New carton packaging
Product Description
SNAP-AIMA-I | OPTO22 | Input Module
✈ Contact: Jessica
✈ Email: sales*mvme.cn (please change * to @)
✈ Skype: jessica01235483
✈ Mobile Phone: 86-18030235311(WhatsApp)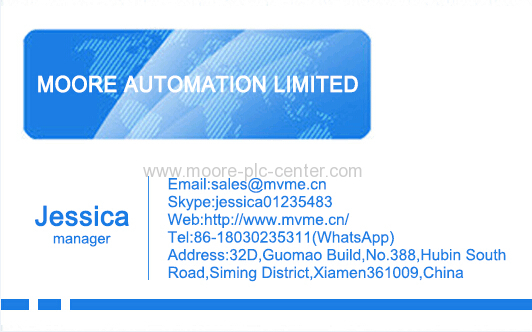 Committed to providing customers with integrated industrial spare parts supply chain solutions through supply chain management.
MOORE is more than just an industrial electrical trade. As industry leaders, we are reliable partners for industrial customers and provide individualized orders for spare parts.
We have over 100,000 kinds of industrial stock spare parts waiting for you, and another 400,000 can be ordered in a very short time.
We also have a large warehouse of industrial products overseas to ensure the supply of products within 24 hours. In addition, you will only receive high quality industrial automation parts in cooperation with us
Indramat Servomotor MAC112C-0-HD-1-B/130-B-0
GüHRING PKD Stufenbohrer Durchmesser 20,016 GUEH:/604579601
Yaskawa Motoman Servo Controller CACR-UP130AAB
Indramat AC-Mainspindle Drive TDA1.3-100-3-A00 / TDA 1.3-100-3-A00
Siemens AC Drive Simovert VC 6SE7022-2FC20
Fanuc Switch Unit A04B-0870-C311
Fanuc AC Servo Motor A06B-0239-B100
Fanuc SV Motor Alpha A06B-0213-B100
Indramat Drehstromservomotor MAC112C-0-ED-4-C/130-B-1/WI530LX
ABB Servo Motor 3HAC-10555-1/0 PS 60/4-71-P-LSS-4502
Siemens Simatic HMI IPC577C Touch Panel 6AV7885-5AA12-0AA2
ABB Robotics API Elmo Servo Motor PS 130/6-60-P-LSS-4407
ABB Robotics Danaher Motion Servo Motor PS 130/6-60-P-4872
Indramat Permanentmagnet Indramat Permanent Magnet Motor MAC090C-1-GD-4-C/110-A
Indramat Permanent Magnet Motor MDD112C-N-030-N2L-130GA2
Yaskawa Servomotor SGMDH-45A2B-YR15
KUKA Power Supply 3PS15/67I Art. 69-327-921
Fanuc Servo Amplifier A06B-6090-H234
Siemens Servomotor 1FT5076-0AC71-1-Z
Siemens Servomotor 1FT6082-8AF71-1AA0
Siemens Simatic HMI IPC677C / GJWPV-TWYGM-8B3QW-P64T7-VMMF8
| | |
| --- | --- |
| Honeywell | 51403224-100 |
| Honeywell | 51305517-100 |
| Honeywell | 51305072-400 |
| Honeywell | 51309136-125 |
| Honeywell | 51308301-175 CC-TCF901 |
| Honeywell | 51308307-175 CC-TCNT01 |
| Honeywell | 51308353-175 CC-TAOX11 |
| Honeywell | 51308363-175 CC-TAIX01 |
| Honeywell | 51308365-175 CC-TAIX11 |
| Honeywell | 51308373-175 CC-TD0B11 |
| Honeywell | 51308376-175 CC-TDOR11 |
| Honeywell | 51308380-175 CC-SDOR01 |
| Honeywell | 51308386-175 CC-TDIL01 |
| Honeywell | 51405038-175 CC-PAIH01 |
| Honeywell | 51405039-175 CC-PA0H01 |
| Honeywell | 51405040-175 CC-PDIL01 |
| Honeywell | 51405043-175 CC-PD0B01 |
| Honeywell | 51405047-175 CC-PCF901 |
1 year warranty
Original and new packing
Delivery with DHL 3 days after payment
---
---