Siemens C79451-Z1038-U13 Teleperm M
Siemens C79451-Z1038-U13 Teleperm M
140.0~200.0 USD
Min. Order:
1 Piece/Pieces
Place of Origin:
Fujian, China (Mainland)
Means of Transport:
Ocean, Air, Land
Product Description
Country of origin:
Germany
Siemens C79451-Z1038-U13 Teleperm M
Sale manager: Jessica
Skype: jessica01235483
Phone/WhatsApp: 86-18030235311
Email: sales*mvme.cn ( change * to @ )

Moore Automation Limited, founded in 2010, provides original PLC and DCS products for all walks of life. After more than 10 years of efforts and development, Moore Automation Limited has a certain scale and strength. With excellent service quality and professional and safe technical service strength, Moore Automation Limited provides higher and higher quality products and services for different groups of users.
Our Promise To You
Moore provides quality new parts along with quality on everything we carry. We offer a minimum one-year warranty on all products. Returns are accepted, although a restocking fee may apply. Moore's 150,000 satisfied customers are a testament to our top-quality service.
Rapid Shipping
All stock items are shipped out the same day if the order is placed before 4PM Beijing We offer overnight shipping and can ship international as well.
Experienced Service
Established for over 15years, Moore believes in providing the best quality customer service in the industry. As a factory automation wholesale distributor we offer and deliver products worldwide.
Jessica | sales*mvme.cn ( change * to @ ) | 18030235311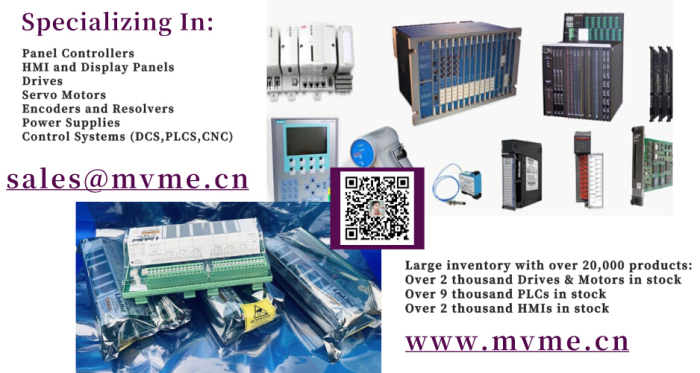 1 All our products are new and original, and good quality.
2 Our prices are very competitive.
3 We have large quantity in stock, so we could help the customers to get the components which are difficult to get.
4 All inquiries will be valued and will replied in 24 hours.
5 Fast shipping, and good after-sale service
6 We will ship the items within 1-3 working days after the payment is received.
7 High quality control, all the goods will be tested one by one before shipment.
8 Good package to protect the products.

Allen-Bradley (1746-IB32,1747-L533,1756-ENBT,1756-L61,1769-OF4,1771-IBN,1785-L40B )
Bently Nevada (3500/94,3500/53,3500/22M,3500/42M,330180-90-00 )
Honeywell (TK-PRS021,TC-FPDXX2,CC-TCNT01,8C-PAIH51,51309355-001,10006/2/1 )
ABB (07KT97 WT97,AI835,CI854AK01,DSQC639,DO810,PM861AK01,SNAT603 )
Triconex (3625,3503E,3008,TCM 4353,4351B, 4409)
ICS Triplex (T8310,T8431,T8461, T8451,T8110B,T8403,T3481)
SDCS-CON-2A ABB DCS500 600 Main Board
SDCS-DSL-4 ABB DCS800 Excitation communication board
ABB SDCS-PIN-46-COAT 3BSE004939R1003 DCS800 DC governor drive board
ABB SDCS-FEX-2A. DCS500 600 Excitation module of DC governor
ABB SDCS-FEX-2A Excitation module
ABB SDCS-DSL-4 Communication board
ABB DCS500 DCS600 TSU600 Main Board SDCS-CON-2A(2B)
ABB DCS500 DCS600 DC governor Main Board ABB SDCS-CON-2B
ABB DCS500 DCS600 Power board SDCS-PIN-205B
ABB DCS400 Excitation module FIS-31 3ADT313600R1
ABB DCS600 Communication board SDCS-AMC-DC-2
SDCS-CON-1 ABB DCS500 DC governor Main Board
SDCS-IOB-21COAT ABB DCS500 600 IO Expansion board
SDCS-CON-4 ABB DCS800 DC governor Main Board(CPU Board)
ABB DCS400 Excitation module of DC governor FIS-3A
SDCS-COM-82 ABB DCS800 DC governor communication board
SDCS-MEM-8FE 3ADT200007R0101 ABB DCS800
SDCS-PIN-41 SDCS-PIN-41A ABB DC governor pulse board, trigger board
SDCS-IOE-1 ABB DCS500 600 Expansion IO interface board
SDCS-IOB-1 ABB DCS500IO Interface board
SDCS-CON-2( -2A)( -2B)ABB DCS500 DCS600 Main Board
SDCS-FEX-1 ABB DCS500 600 Excitation board
SDCS-COM-5 ABB DCS500 Communication board
NPBA-12 ABB DP Communication interface module
SDCS-PIN-4 ABB DCS800 DC governor power board, trigger board, power board
SDCS-CON-3A ABB DCS400 DC governor Main Board
DCS400 Excitation module FIS-31/ FIS-3A
OVP-10 ABB DCS400 DC governor board
Vickers EEA-PAM-553-A-32 Proportional valve drive plate
SDCS-PIN-205A
ABB DCF504B-0060 Reversible excitation module
ABB SDCS-FEX-31 Excitation module Main Board
SDCS-PIN-51 Measuring plate ABB Detection board
SDCS-POW-4 ABB DC governor power board
Any support from us,please don't hesitate to contact us,
We will try my best to support you!

---
---