TELEFRANK TZP80-2405/S AC-DC Converter Module
TELEFRANK TZP80-2405/S AC-DC Converter Module
1.0 USD
Min. Order:
1 Piece/Pieces
Place of Origin:
Fujian, China (Mainland)
Production Capacity:
55555
Packing:
New carton packaging
Country of origin:
AUSTRIA
Product Description
TELEFRANK TZP80-2405/S AC-DC Converter Module
Shipping Date:
· In-stock products: Same day shipping Mon. through Fri. by 6:00 pm EST
· Order products: Shipping date is specified in the Product Details page
Carriers:
· US Orders: FedEx, UPS,
· International Orders: FedEx, UPS, TNT, Express Mail International
* Blind Shipping is available for approved customer accounts
* Orders can be picked up at our Own Location
Contact:Jessica Skype:jessica01235483
Email:

sales*mvme.cn (please change * to @)
Q Q:2851195444 TEL:86-592-5856209
Mobile Phone:

86-18030235311(WhatsApp)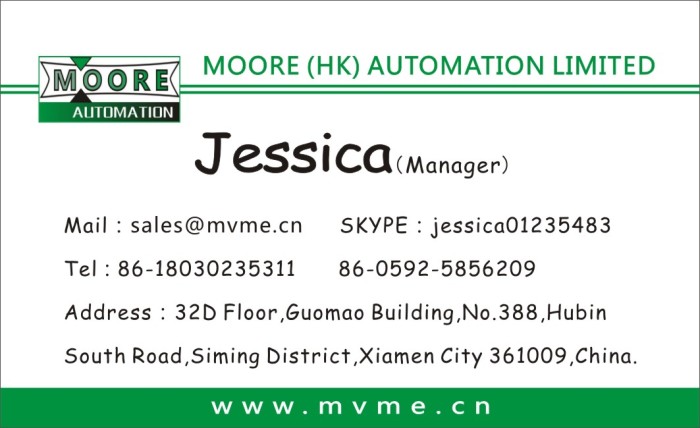 MOORE has a large number of industrial electronic components to choose from. New and discontinued. These range from 30 years to the latest technology. Investing in new technologies is not always necessary.
We are happy to help you keep the old equipment in good condition. Are you or your customers experiencing serious electronic equipment failures in your business?
Does the machine shut down and stop production? Therefore, a quick solution is in your best interest! Sometimes, it may be difficult to find the required components.
Our large stock usually enables us to help you, so your production can be restarted immediately!
Allen Bradley: Reliance,SLC500/1747/1746,Logix5000/1756,PLC-5/1771/1785
ABB: DSQC series,H&B Freelance,Bailey
Bently Nevada: 3500 System spare parts ,3300 System spare parts
Yokogawa DCS
Honeywell DCS
Westinghouse: 1C31234G01/1C31227G01/1C31166G01/1C31116G01/1C31189G01 etc DCS System spare
GE: IC693/IC697/IS200/DS200/IS215
Triconex: 3700A/3805E/3604E/3503E/3504E/3008/4119A/8312/3703E/3511/
Schneider 140 PLC series 140CPU67160/140CRP93200/140CPS11420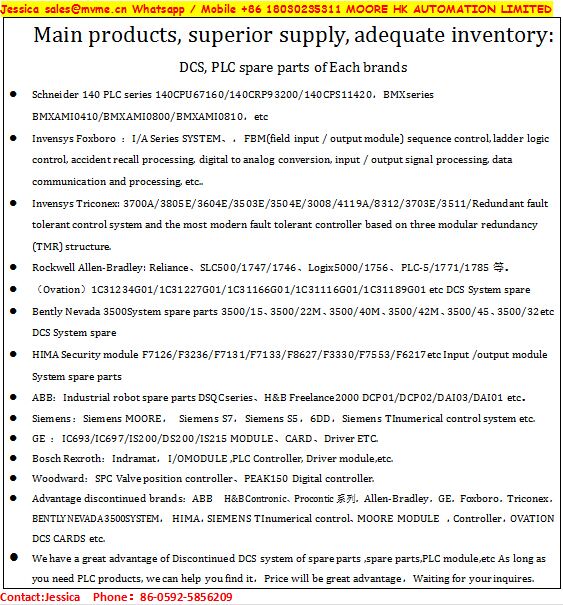 Mitsubishi FR-E720S-050SC-EC
Honeywell DC230B-C0-0A-20-0000000-00-0
Siemens 6ES7 321-1BL00-0AA0
Allen Bradley 845H-SJDB26FWY2C
Fuji FRN11G9S-4
Allen Bradley 1756-A5XT
Fuji FRN0.4G11S-4
Schneider TSXDMZ64DTK I/O
Uticor 100G-8U3R0
Parker SLVD15
Allen Bradley 2098-DSD-HV050-SE
Allen Bradley 1756-L61
Fuji FRN22P11S-4JE
Fuji FRN18.5G1E-4A
Clipsal 66CV463
GE Fanuc QPJ-ABD-201
Siemens/Texas Instruments 505-2571
Allen Bradley 1771-OZL
Mitsubishi MR-J2S-100B
Siemens 6ES 7313-5BF03-0AB0
Allen Bradley 20A-C011A0AYNANC0
Allen Bradley 2711-K3A17L1
Allen Bradley SP-140574
Siemens/Texas Instruments 505-7002
Siemens 500-5019
Bently Nevada 330780-50-05
Allen Bradley 1785-L20E
Corning CC1-24OTR-2459H550402
Ingersoll Rand 39795588
Turck BI40-R32SR-UP6X
| | |
| --- | --- |
| GE | 0285A7512 UTM101 |
| GE | IS200ERAXH1A |
| GE | IS200ERSDG1A |
| GE | 330130-040-00-00 |
| GE | IS200HSLAH2A |
| GE | DS200SDCCG4AGD |
| GE | DS200TCEBG1BAA |
| GE | DS200TCQAG1BGD |
| GE | DS200TCDAH1BGD |
| GE | DS200PCCAG6ACB |
| GE | IC698PSA100 |
| GE | DS3820LT4A.1C1A |
| GE | DS3800NOAA1F1D |
| GE | DS3820LT4A.1C1A |
| GE | IC600LX624L |
| GE | IC600CB526R |
| GE | IC697MDL940 |
| GE | TGT-AIOV-8-0 |
| GE | MTR-3T45-H-R-0-M-0-A |
Our company has many products in stock,which are immediately available.The warranty is 1 years which apply to all the new products.If you purchase one more parts from us,we can make a discount to you.
If you have any question pls do not hesitate to contact us.We can supply all kind of the automaiton parts,if you want to purchase parts pls send the parts model to my mail, I will prompt reply you.
Hope anyone enquire from us.
---
---