TPG-1RM | TOKUDA | In Stock For Sale
TPG-1RM | TOKUDA | In Stock For Sale
1.0 USD
Min. Order:
1 Piece/Pieces
Place of Origin:
Fujian, China (Mainland)
Production Capacity:
55555
Packing:
New carton packaging
Product Description
TPG-1RM | TOKUDA | In Stock For Sale
Shipping Date:
· In-stock products: Same day shipping Mon. through Fri. by 6:00 pm EST
· Order products: Shipping date is specified in the Product Details page
Carriers:
· US Orders: FedEx, UPS,
· International Orders: FedEx, UPS, TNT, Express Mail International
* Blind Shipping is available for approved customer accounts
* Orders can be picked up at our Own Location
Contact:Jessica Skype:jessica01235483
Email: sales*mvme.cn (please change * to @)
Q Q:2851195444 TEL:86-592-5856209
Mobile Phone:86-18030235311(WhatsApp)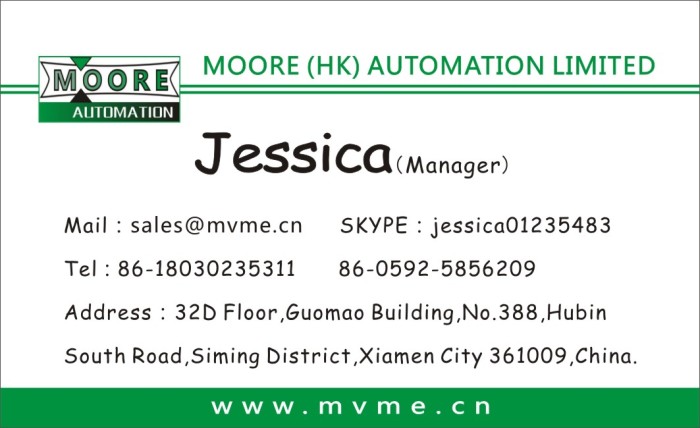 MOORE's large stock is the core of our supply.
Our large stock of industrial products is ready for delivery, which is the core of our supply. It contains more than 400,000 electronic products, such as PLC, HMI, drivers, servo and CNC devices, IPC and PG.
Whether new or out of production, from the smallest module to the complete configuration. We have products that have not been available for many years, the latest technology and all other products in between.
Market insight, technology development and customer demand enable us to buy strategically, so we seldom need to transfer business.
If items happen to be out of stock, we will search our preferred supplier network for you.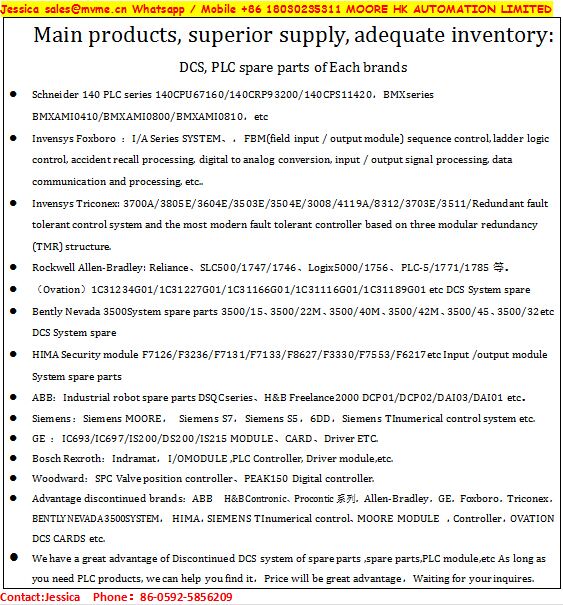 Advantech FPM-5151
Omron SCYMI-ID022
Sick PLS101-312
Mitsubishi FR-E520-2.2K-NA
Toshiba VFP7-4220
Proface GP377R-MLTE41
Bently Nevada 102579-01
AMCI 1561
Moore Industries MDS/PRG/PRG/10-30DC
Banner SU925QD-24
Westermo MDW-45
Allen Bradley 1771-IMD
Allen Bradley 1756-OF8
Allen Bradley 1756-PB72
Allen Bradley 1771-P6R
Allen Bradley 1771-P5E
Allen Bradley 1606-XL720E-3
Allen Bradley 1783-SFP1GLX
Yaskawa SGDR-SDA710A01B
Allen Bradley 1756-L7SP
Bently Nevada 102577-01
Bently Nevada 132419-01
Allen Bradley 22D-D6P0N104
Siemens 6ES5 241-1AA11
Schneider LC1 F115F7
MHT Averaging Temperature Transmitter TT22
Symax / Square D 8030 CRM-222
Schneider LTMR08EBD
Siemens 3UF7010-1AB00-0
Allen Bradley 160-DN2
Bently Nevada 145323-01 3300/16
| | |
| --- | --- |
| Westinghouse | 5X00226G02 |
| Westinghouse | 5X00241G02 |
| Westinghouse | 1C31129G03 |
| Westinghouse | 1C31224G01 |
| Westinghouse | 1C31132G01 |
| Westinghouse | 1C31116G04 |
| Westinghouse | 1C31227G01 |
| Westinghouse | 1B30035H01 |
| Westinghouse | 1C31110G03 |
| Westinghouse | 1C31113G05 |
| Westinghouse | 1C31116G01 |
| Westinghouse | 1C31116G02 |
| Westinghouse | 1C31122G01 |
| Westinghouse | 1C31125G01 |
| Westinghouse | 1C31125G02 |
| Westinghouse | 1C31142G01 |
| Westinghouse | 1C31147G01 |
| Westinghouse | 1C31150G01 |
| Westinghouse | 1C31166G01 |
| Westinghouse | 1C31169G02 |
Our company has many products in stock,which are immediately available.The warranty is 1 years which apply to all the new products.If you purchase one more parts from us,we can make a discount to you.
If you have any question pls do not hesitate to contact us.We can supply all kind of the automaiton parts,if you want to purchase parts pls send the parts model to my mail, I will prompt reply you.
Hope anyone enquire from us.
---
---