TRICONEX 3624 | Digital Output Module 24VDC
TRICONEX 3624 | Digital Output Module 24VDC
1900.0~2000.0 USD
Min. Order:
1 Piece/Pieces
Place of Origin:
Fujian, China (Mainland)
Means of Transport:
Ocean, Air, Land
Packing:
New carton packaging
Product Description
TRICONEX 3624 | Digital Output Module 24VDC
Availability: In Stock
Estimated Lead Time: Usually Ships in 5 - 7 Working Days
★ Contact: Jessica
☆ Email: sales*mvme.cn (please change * to @)
★ Skype: jessica01235483
☆ Mobile Phone: 86-18030235311(WhatsApp)
★ Wechat: hu18030235311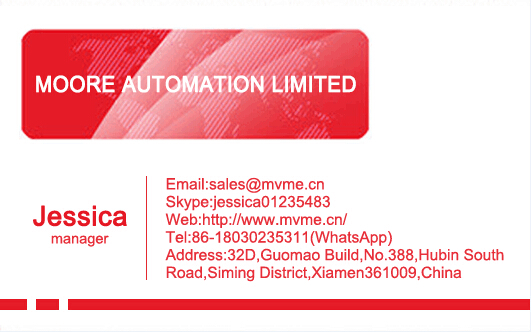 MOORE's large inventory is the core of our business.
Our large inventory of industrial products is ready for shipment, which is the core of our offering. It contains more than 400,000 electronic products such as PLC, HMI, drives, servo and CNC equipment, IPC and PG.
Whether new or discontinued, from the smallest module to the complete configuration. We have years of products that are not readily available, the latest technology and all the other products in between.
Insight into the market, technology development and customer needs enable us to purchase strategically, so we rarely need to shift our business.
If the item happens to be out of stock, we will search for our preferred supplier network.
We have a wide range of brands and products for a wide range of industries, and we serve tens of thousands of customers around the world. This means your production can be up and running right away. Reduce production stagnation or loss of capital gains.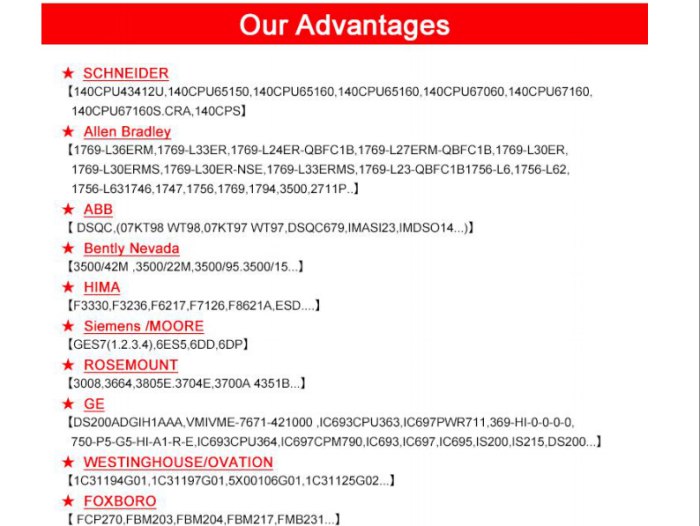 ★Invensys Foxboro:I/A Series system,FBM(input / output modules) Sequence control, ladder logic control , Recalling accident treatment, The digital-to-analog converter input / output signal processing, Data communication and processing and so on.
★Invensys Triconex: Redundancy fault tolerant control system, Based on the three module redundancy (TMR) structure of the most modern fault-tolerant controller.
★Westinghouse:WDPF system,WESStation system card.
★Schneider Modicon:Quantum 140 Series processor, control card, Power module and so on.
★Rockwell Allen-Bradley:Reliance,SLC500/1747/1746/MicroLogix/ 1761/1763/1762/1766/1764,CompactLogix/1769/1768,Logix5000/1756/1789/1794/1760/1788/PLC-5/1771/1785 and so on.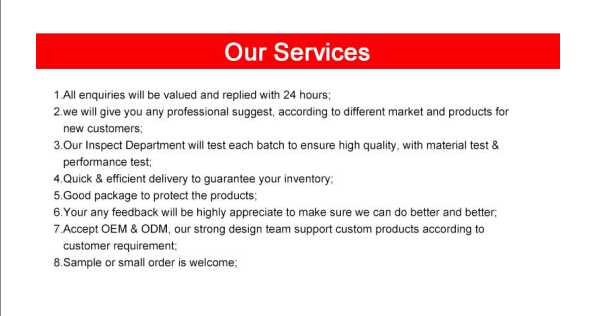 CPM810
C10-12010
DI890/3BSC690073R1
3BSE008514R1/ DO820
AI830A/3BSE040662R1
CI840A/3BSE041882R1
ATS021
I-8837-80
PHARPS32200000
3BSE008552R1
6203BZ10000A
SCT306
3BSE000566R1 /AX670
3BHT300006R1 /DO610
6230BP10810/6230BP10820/6230BP10830
6226NZ10400B
6253BZ10000A
GJR5251300R0171
YPQ-112A
MB510/3BSE002540R1
07DI92 F1 /WTDI92
DSSR-122
6248BP10811A/6248BP10821A
| | |
| --- | --- |
| HONEYWELL | FC-SDIL-1608 |
| HONEYWELL | FC-SDOL-0424 |
| HONEYWELL | FC-TSDI-16UNI |
| HONEYWELL | FC-SDO-0824 |
| HONEYWELL | CC-PCF901 |
| HONEYWELL | CC-TCF901 |
| HONEYWELL | CC-TCNT01 |
| HONEYWELL | CC-PCNT01 |
| HONEYWELL | CC-PAIH01 |
| HONEYWELL | CC-TAIX01 |
| HONEYWELL | CC-TAIX11 |
| HONEYWELL | CC-PAOH01 |
| HONEYWELL | CC-TAOX10 |
| HONEYWELL | CC-TAOX11 |
| HONEYWELL | CC-PDIL01 |
| HONEYWELL | CC-TDIL01 |
| HONEYWELL | CC-TDIL11 |
| HONEYWELL | CC-PDOB01 |
| HONEYWELL | CC-TDOB01 |
| HONEYWELL | CC-TDOB11 |

---
---