TRICONEX 3700A IN STOCK FOR SALE
TRICONEX 3700A IN STOCK FOR SALE
140.0~200.0 USD
Min. Order:
1 Piece/Pieces
Place of Origin:
Fujian, China (Mainland)
Means of Transport:
Ocean, Air, Land
Product Description
TRICONEX 3700A ANALOG MODULE Tricon *Ship Today*-Good Discount
1.Best price
2.Fast Delivery
3.Large in stock
Contact:Jessica
Skype:jessica01235483
Email:sales*mvme.cn (please change * to @)
TEL:86-592-5856209
Mobile Phone:86-18030235311(WhatsApp)
Wechat:hu18030235311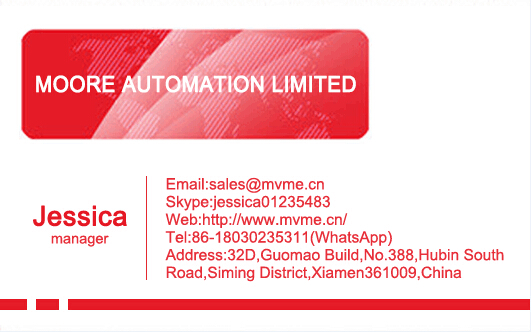 The use of the system is very simple, because from the user point of view, TMR system operation and single-channel control system is the same. The user can connect the sensor and the actuator to a single terminal, simply write a set of application logic, and the rest of the work is managed and processed by the control system.
The system performs extensive diagnostics for each individual sub-circuit, each module and each function circuit, and monitors and reports on operational errors. All the diagnostic information in the application and operation is stored. These diagnostic data are available to the programmer to modify the execution of the controller or to directly perform process maintenance.
IPS TRICONEX safety control system features are summarized as follows:
All components using SMT surface packaging technology, sealed installation, anti-corrosion ability, can be applied to more demanding industrial environment
Suitable for medium-sized applications
Supports both remote and distributed I / O
It can be operated correctly with 3, 2 or 1 main processor in good condition
Complete and transparent triple structure
HDLC, AISC technology to improve controller processing speed, improve I / O response time, improve system responsiveness
Using integrated logic comparison diagnosis (including FPGAs) technology to improve system fault self-diagnosis coverage
Full range of I / O modules
Moore Automation professionally sale DCS system and spare parts of famous brand at home and abroad.
Main advantage products is Bently Nevada, Invensys Triconex, AB CPU 1771/1747/1756/1789/1785 series,Moore APACS,Moore Panel Controllers,Siemens Iskamatic, Schneider DCS system parts as(Quantum)140CPU,GE Fanuc 90/30,90/70 , FOXBOROI/A MOTOROLA MVME MVME147 /MVME162 /MVME167 /MVME177 ,ABB Advant OCS,ABB MOD 30/MODCELL,ABB MOD 300,ABB Procontic,ABB Procontrol,and so on.
PLC programmable control system spare parts
Allen-bradley:1756 1771 1785
Siemens: 6ES7 6ES5
Schneider:140CPU
GE:IC697 IC698
Motorola:MVME162 MVME137 MVME147
Xycom:XVME
DCS control system spare parts:
DCS distributed control system:
Invensys Foxoboro:FBM01 FBM02 FBM09 FBM10 FBM201 FBM209
Invensys Triconex: 3503E 3664 3721 3625 4351D 3700A
ABB bailey:BRC300 BRC400 BRC410 AC800 IMASI23
Westinghouse :IC31
Servo Control System Spare Parts:
Kollmorgen: SM71K 6SM27 AKV23F 60WKS 65WKS
Seimens: 6DD1606 6SN1118 6FC5203 6RB2000 6SC6508 6FX2007 6FM2805 6AV6542
Bosh Rexroth: HCS02.1E HMS01.1N HLB01.1C MSK060B MKE118B MSM020B MHD071B
SEW: MDX61B0022 MDS60A0040 MDF60A0015 MDV60A0015 MCH42A0220 MCV40A0075
Robot Control System Spare Parts:
KUKA:KRC1 KRC2 KRC4 KPS600 KCP2
ABB:3HAB 3HAA 3HAC DSQC345
FANUC:A02B A03B A04B A05B A06B
Yaskawa:CACR JUSP JZNC JANCD HW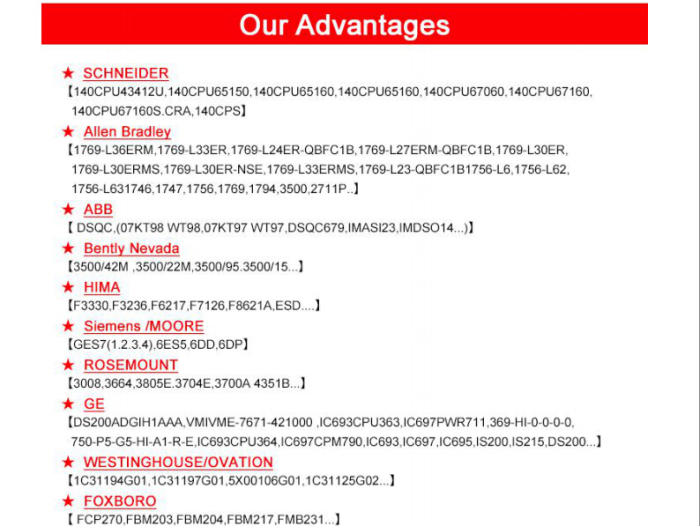 KJ4001X1-CC1 12P0733X042
KJ3001X1-BB1
KJ3221X1-BA1
IDA-JMB
PMCB11M1
KJ4002X1-BF2
KJ1501X1-BB1
KJ4010X1-BG1
BM11M1
KJ4001X1-BE1
KJ4001X1-NA1
KJ4001X1-NB1
KJ4001X1-CA1 12P0623X062
KJ4001X1-CG1 12p1812x042
KJ3203X1-BA1
KJ3222X1-BA1
KJ3002X1-BG2
PS416-BGT-410
SN4-050-BI7
PKZM0-16
PKZM0-4
INP-400
CNT-200
NET-440
POW-400
EBE-223.2-2 CPU-W
PS316.118-3
EBE201
EBE295.1-3
PS306-DC
PS416-BGT-420
PS416-MEM-442
EBE-252-1
PS3-DC
PS416-CPU-400
EASY205-ASI
618-AC-RC
LE4-108-XR1 LE4-206-AA2
AIO-400
PS416-OUT-400
PS416-INP-401
EBE211
619-AC-RC
M62P
M61P
GM6-DMMA
K7M-DR60S
G6Q-TR4A
GM6-B04M
GM6-PAFA
G6I-D24A
K7M-DR60U
G7F-ADHB
K3S-302S K3P-07AS K3X-210S K3Y-201S K3B-4MS
EP-3626D-C4-Z2
EP-3611E-C EP-3611E-C-Z2
MEC-40V-0 G9-CPCB SA518973-07
FVRO.4E11S-4JE
EP-3531F
FVR0.4E11S-4JE
EP-3515G-C1
G11-CPCB
EP-3603C-C
FVR1.5C11S-7JE
EP-273IE-C2
BU055-4CG
EP-3563F-C1
EP-3626D-C6-Z2
FVR0.1C11S-2
BU37-4C
K7M-DR20S
TSXRKY6EX
140XBP00600
TSXDEY32D2K
TSXP57454M
TSXDSF635
TSX1723428
TSXPSY2600
TSXDSY16T2
TSXP57453M
TSX08CD08R6A
140EHC10500
LTMR08MFM
TSXMRP032P
PM810MG
ABL7 RE2403
TSX3721101
TSX07312428
TWDLCAA16DRF
TWDDRA8RT
TWDAMI2HT
TWDDRA16RT
TSXETZ410
TSXDMZ28DR
TSX08SSJD14AS
TSX08ED12R4S4
140CPS11400
140CPU43412
140CPU11303
140CRA93200
TSX08RCOM
TSX08ED12F8
TSX08ER16
TSX08CD12F8AS
TSX08CD08F6DS
TSX08RCOM
TSX08ED12R8
AS-B805-016
TSX08CD08F6D
140XBE10000
140XTS00200
TWDDDI8DT
TWDLCAA40DRF
Allen Bradley 440R-N23122 MSR126R
GE Fanuc IC693CHS392J Series 90-30 10 Slot
GE Fanuc IC693CHS392F Series 90-30 10 Slot
Saftronics JVOP-110
Prime 500 PR502225
Allen Bradley 42BT-B2LBSL-A2
Toshiba CBVX-7B Keypad
RS 185-9550 101 Network
Omron C200H-MR833
Mitsubishi FR-E5NFS-0.75
Siemens 3RV1031-4FA10 28-40A
Klockner-Moeller PKZM4-32
Merlin Gerin 50438
Pepperl + Fuchs KFD2-STC3-EX1 116308
Siemens 3RT1034-1BB40 Contactor AC-3 3 Pin
Phoenix 2726272 IBIL24D016
KFD2-SR2-EX2.2S Digital
Gould DI1133 Input Module 12-24vdc
Siemens 3UF7101-1AA00-0
Gould DO1136 DO-1136-000 8 Point
Fisher-Rosemount KJ4001X1-CB1
Allen Bradley 1336-L6
Mitsubishi A1S68B 8 Slot
Fanuc A03B-0807-C104
Siemens 3LD1518-0TB51
Ifm OG5045 OGP-FPKG
Ifm IGA2008-BBOA IG0094
Square D 8030CC-10 10 meter Cable RS422
Omron 3G3IV-PJVOP161
Parker SSD 5526-269-10-00
Siemens 3RA1110-1BA15-1BB4
Roxburgh KMF310
Indramat MOD13/1X087-001
Indramat MOD 13/1X021-002
Mitsubishi MF-3F480-025.230MF3 EMV
Indramat RMB02.2-04 4 Slot
Mitsubishi MF-230-006.232MF EMV
Mitsubishi MF-2F230-006-230MFB
Schaffner FS5536-35-07 3ph 35AMP 380-480V
Square D DN-116 8005-DN-116 Sy/Max
Teapo TP465B-5 230433-001 60 Watt
Allen Bradley 42GRP-9040-QD Series 9000
Siemens 6SE7090-0XX84-4HA0
Rasmi Electronics 4200-2515
Telemecanique VW3GB581380F1
Baumuller BFN 3-1-16 Mains
GE Fanuc IC200CHS001
Schaffner FS5113-100-35
in stock
1 year warranty
Original and new packing
Delivery with DHL 3 days after payment

---
---