Triconex 7400209010 Termination Panels
Triconex 7400209010 termination panels
140.0~200.0 USD
Min. Order:
1 Piece/Pieces
Place of Origin:
Fujian, China (Mainland)
Means of Transport:
Ocean, Air, Land
Product Description
Triconex 7400209 010 termination panels
Contact:Jessica
Skype:jessica01235483
Email:sales*mvme.cn (please change * to @)
TEL:86-592-5856209
Mobile Phone:86-18030235311(WhatsApp)
Q Q:2851195444
Moore Automation is a high-tech company specializing in the sales of industrial automation components dedicated to enhancing the world's supply of automation components.
No matter where your customers are, no matter how rare moles they need, accessories are available to customers all over the world, allowing them to connect closely with their products.
Shipping Term : TNT,DHL,FEDEX,ETC
Payment Term : T/T
Warranty: 12 month
Moore supply: New+original+factory sealed+high quality
Service: quotation will be sent in 9 hours
Skype + whatsapp + mobile = 24 hours /day Oneline.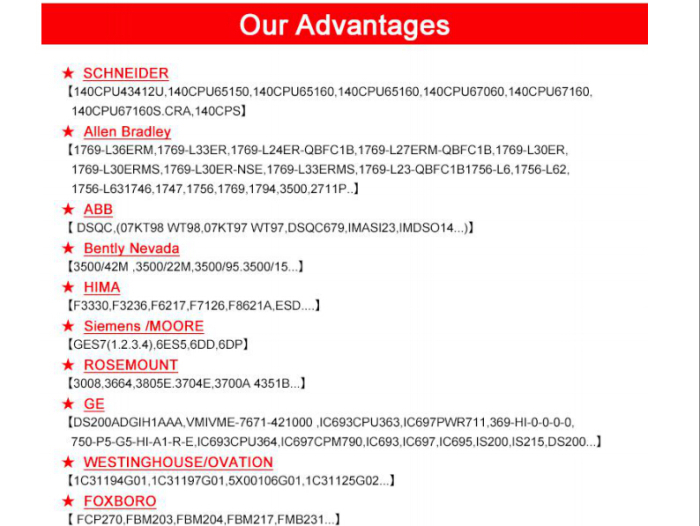 if you have a large purchase, we can make a discount.
specifications:
new+original +one year warranty
we supply:
plc : ab,abb,ge,schneider
dcs : abb,siemens moore,foxboro,westinghouse,yokogawa
esd : triconex,hima,bently,ics
excitation cards : abb,ge marke
[WhatsApp:+8618030235311]&[mailto:sales3*amikon.cn] (please replace * to @)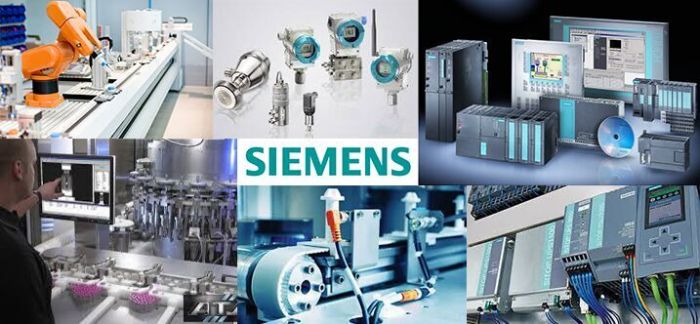 FUM210 6DP1210-8BA
FUM511 6DP1511-8AA
FUM280 6DP1280-8AA
FUM310 6DP1310-8AA
FUM210 6DP1210-8AA
6DR1410-0NJ91-1JN0+C73451-A347-B151
FUM232 6DP1232-8AA
FUM531 6DP1531-8AA
6DS1211 6DS1212 6DS1213 6DS1922 6DS4407
6ES5304-3UB11 + 6ES5491-0LB11
6DR5010-0NG00-0AA0
6ES5105-3RA31 6ES5935-3LA12 6ES5905-3RB11
PM8M26
6DS1701-8AB
6DS1703-8RR
6FX1-190-3AD00
6ES5927-3KA13
6DS1211 6DC1212 6DS1213
6DS1325-8AA
6DS1223-8AC
6DS1703-8AB
6DS1731-8RR
6DS1327-8AA
6DS1326-8BB
C79451-A3260-A25
C79451-Z1359-U9
6DS1901-8BA
6DS1701-8AA
6DS1844-8DA
6DS1312-8BB
6DS1330-8CA
C79458-L2197-A1
C79458-L2339-A1
C79458-L2225-B205
6DS1702-8AA
C79458L7000B18
C79458-L2270-A1
C79145A3054B808
6EA9643-3AA00-0AX0
C79458-L2350-A1
6ES5 985-4AA11
LBF2003396-R161
51303997-100
T775E1056
51303982-400
51304685-200+51401598-200
51304483-100
51304518-200
XDL505
XD50-FCL
XD50-FC
51303979-400
51304518-150
51304685-150+51401598-150
51304685-100+51401598-100
XCL5010
51304493-250
51304493-150
51304419-100
51304501-100
51190916-104
51304493-100
51303979-550
51109693-100B
51201397-004
51401469-100
51304419-150
51201420-004
51201420003
RM7895 C 1012
51201420-005
51201420-002
51304487-100
51109806-002
51195479-200
51195153-005
51201397-002
51201421-100
51308111-002
W7704A1004
W7704D1016
51401216-100
XL50A-MMI-EP+XD50B-F
N2024-2POS
XFL523B
XFL524B
XSL514
T7412A1018
T7560A1000
T7560A1000
XSL511
DPT1000
DPT1000
DPS400
XSL513
DPS400
DPT50
XFL524B
XFL523B
621-9938RC
AH248716 U200
AH248716 U100
AH385356U001
591P40A-165A
AD102725
AD102460
AH385851U003
AH385870U001
AH465315U001
AH386001U001
AH385851U002
AH385851U003
AH055036U003/AH055036U103
AH470330U001/ah470330t011
AH470330T032/3
AH470372U002
AH463179u001
MD29 7004-0156
ASP-5
MDA-2
FXM5 10A-20A
DMV2342-25A
7004-0086 ISSUE
FXMP25
M825GB14
M155GB14
MD-430 ISS.5
7004-0357
MDA1 7004-0043
MDA 2B /MDA2B
9500-8504A
CHEETAH-11
LYNX 08
LYNX 16
9500-8501A
MDA75
3135-7102
1C31232G03
5X00226G02
5X00376G01
5X00357G05
1C31174G03
1C31194G03
1C31194G02
1C31166G01
1C31122G01
1C31233G01
1C31161G01
1C31199G06
1C31179G02
5X00070G02
5X00106G02
5X00241G02
1C31224G01
5X00106G01
1C31113G05
1C31179G02
1C31161G02
5X00070G02
1C31232G02
1C31233G04
1C31203G01
1X00024H01 WH1-2FF
1B30023H02
1B30023H01
1C31194G01
1C31166G01
1C31234G01
1C31189G01
5X00119G01
5X00070G01
5X00070G04
1C31122G01
1C31129G03
1C31132G01
1C31125G02
NL-732
1C31192G01
MPS512A
NL-743H
1C31169G02
1B30035H01
1C31227G01
7379A21G01 / 7379A21G06QAV
1C31197G01
5X00121G01
7381A93G05
4256A67G01 / 4033755G04
NL-743
NL-708
4256A88G01 4256A88G04
4626B58 4626A58G03
7381A73G01
2840A21G01
2840A79G01
7379A21G02
2840A20G02
2840A19G07
7379A31G05
GEA BLOUUOOCV0320 TUCHENHAGEN STAINLESS SANITARY ACTUATOR D566185
EIM 9H5753FC-D ROTORY VALVE ACTUATOR CONTROLLER ASSEMBLY D578308
VALVCON VW600KS2TN115AC ELECTRIC VALVE ACTUATOR 115V-AC D579477
SUNDSTRAND MCV104A5901 ELECTOHYDRAULIC PUMP STROKE CONTROLLER D591615
SUNDSTRAND MCV104A5902 ELECTRONIC DISPLACEMENT CONTROLLER D598870
DEZURIK 425939T ACCUTRAX CONSISTENCY TRANSMITTER PIPELINE MODULE D593259
FLOWSERVE PRESSURE REDUCING PUMP SHAFT SLEEVE D583894
GOULDS 3196 MTX 3X4-13 IRON PUMP POWER END D599255
WEIR E4110A05 SLURRY PUMP VOLUTE LINER D599771
FLOWSERVE CE4A2TAX CENTURA CE ROTARY VALVE ACTUATOR 115V-AC D595402
JOHN CRANE 1-RBA20771 CFSP-101317 TYPE 88SRS 2.125IN PUMP SEAL KIT D564732
FLOWSERVE 134625-GS DURA SEAL CARTRIDGE PUMP SEAL ASSEMBLY D522737
ANDCO 8417T POSI-TORK ELECTRIC LINEAR ACTUATOR 1.26HP 230/460V-AC 38IN D586468
MOYNO TS A2A5000 10IN STAINLESS PUMP ROTOR D587612
FISHER 3582 VALVE POSITIONER 3-15PSI D585782
PACO K0312-1 GENUINE PARTS KIT D574487
LIMITORQUE L120-10 MULTI-TURN ELECTRIC VALVE ACTUATOR D559551
MASONEILAN DRESSER SVI2-21123111 SVI-II DIGITAL VALVE POSITIONER 150PSI D597302
MASONEILAN DRESSER 8012-2C ELECTRO-PNEUMATIC VALVE POSITIONER D569537
MASONEILAN DRESSER 8012-4C ELECTRO-PNEUMATIC VALVE POSITIONER D569590
GOULDS 053224G0001002 5322400AA IRON PUMP DISK D560712
FISHER 3582C-NS11 PNEUMATIC VALVE POSITIONER 3-15PSI D560764
MOYNO TS A2B5000 STAINLESS 8IN PUMP ROTOR D587607
GORMAN RUPP 38515-548 1706H STAINLESS PUMP SHAFT D578781
VALVCON LVW2500TE2S115VAC ELECTRIC VALVE ACTUATOR 115V-AC D574617
FLOWSERVE 134625 DURASEAL 1.499 IN STAINLESS SHAFT SEAL ASSEMBLY D522005
IMO 3222/112R SCREW PUMP REPAIR KIT D543454
PARKER 0851045100 10GAL 5000PSI HYDRAULIC ACCUMULATOR BLADDER D497539
SULZER K111-6 REPAIR SEAL KIT 2.25IN D577026
PACO 91910195 GENUINE REPAIR SEAL KIT 2.25IN D574489
JOHN CRANE M123093 STAINLESS TYPE 8-1 SEAL ASSEMBLY 2.375IN D589660
PATERSON 7-VANE 14-1/4 IN BRONZE PUMP IMPELLER D530999
GOULDS 3196 LT 2X3-13IN PUMP POWER END D499399
GOULDS 3196 MT CENTRIFUGAL IRON PUMP POWER END D591486
GOULDS 3196 MT IRON CENTRIFUGAL PUMP POWER END D591204
GOULDS 3196 MT CENTRIFUGAL PUMP POWER END 1X2-10 30GPM 1800RPM D591099
FISHER 2516 MULTI-TROL VALVE RECEIVER/CONTROLLER 3-15PSI D587027
GOULDS 3298 ITT PUMP CASING & FRAME ADAPTER D585993
REXROTH VT-VRPA 1-527-20/V0/RTS-2/2V HYDRAULIC VALVE AMPLIFIER CARD D555723
GOULDS 3196MT 0100-539 1203 5VANE STAINLESS PUMP IMPELLER 12IN D581469
SPX 132357+ WAUKESHA PEEK SEAT INSTALL TOOL KIT D574467
MASONEILAN DRESSER FVP110 F1A3N/LC1/FF1 VALVE POSITIONER 20-60PSI D569606
FLOWSERVE EK342 STAINLESS PUMP SEAL KIT PTO-2.500-E U 5 E F/V V V D563895
LIMITORQUE SMC-031 VALVE ACTUATOR D564577
ROSEMOUNT 03031-1045-0022 PRESSURE TRANSMITTER SENSOR D595614
BETTIS T-312B ROBOTARM 115PSI PNEUMATIC VALVE ACTUATOR D563976
VALVCON LVW1000KSTN115AC 0.8A 115V-AC 1000IN-LBS VALVE ACTUATOR D579771
VALVCON LVW1000KS2TN115AC ELECTRIC VALVE ACTUATOR 115V-AC D579474
---
---