VIPC616 | SBS | Power Module
VIPC616 | SBS | Power Module
1.0 USD
Min. Order:
1 Piece/Pieces
Place of Origin:
Fujian, China (Mainland)
Production Capacity:
55555
Packing:
New carton packaging
Product Description
VIPC616 | SBS | Power Module
Shipping Date:
· In-stock products: Same day shipping Mon. through Fri. by 6:00 pm EST
· Order products: Shipping date is specified in the Product Details page
Carriers:
· US Orders: FedEx, UPS,
· International Orders: FedEx, UPS, TNT, Express Mail International
* Blind Shipping is available for approved customer accounts
* Orders can be picked up at our Own Location
✈ Contact: Jessica
✈ Email: sales*mvme.cn (please change * to @)
✈ Skype: jessica01235483
✈ Mobile Phone: 86-18030235311(WhatsApp)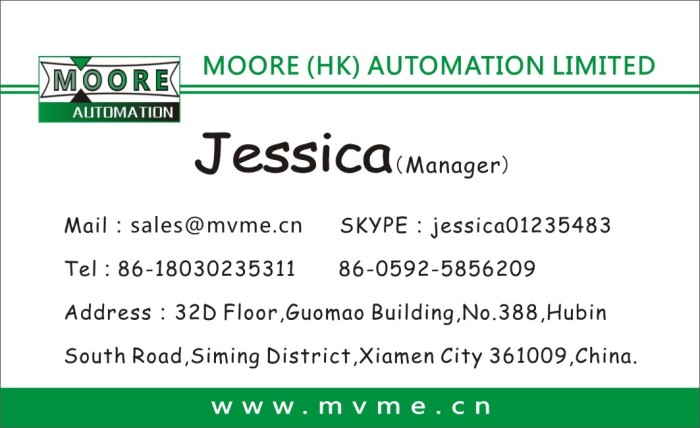 MOORE is committed to providing economic solutions for industrial parts and equipment. We can provide unparalleled value for quality products because we are a direct source. We strive to continuously improve the environment, and at the same time we are committed to supplying you with all the products at the supplier's price.
Why does it cost only a small part to choose a distributor who can quickly acquire the same parts? We have many years of collective and comprehensive knowledge and experience in industrial material management. This means that we can provide you with the greatest value and for every spare part cost. We always ensure that your satisfaction is guaranteed.
Advantage Brands:
Allen Bradley: Reliance,SLC500/1747/1746,Logix5000/1756,PLC-5/1771/1785
ABB: DSQC series,H&B Freelance,Bailey
Bently Nevada: 3500 System spare parts ,3300 System spare parts
Yokogawa DCS
Honeywell DCS
Westinghouse: 1C31234G01/1C31227G01/1C31166G01/1C31116G01/1C31189G01 etc DCS System spare
GE: IC693/IC697/IS200/DS200/IS215
Triconex: 3700A/3805E/3604E/3503E/3504E/3008/4119A/8312/3703E/3511/
Schneider 140 PLC series 140CPU67160/140CRP93200/140CPS11420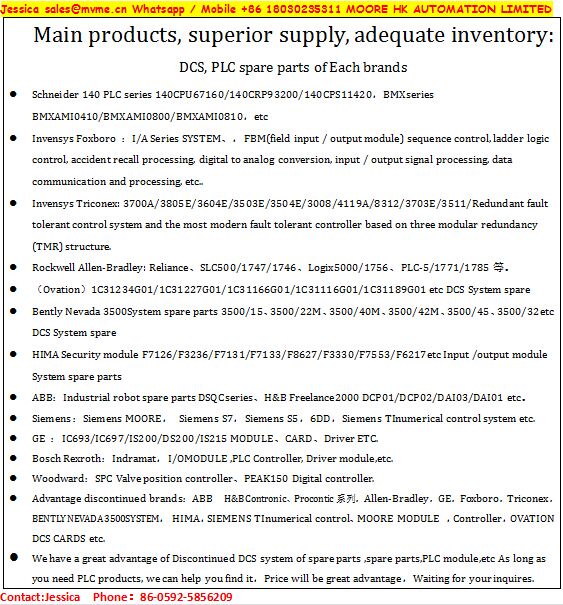 Allen Bradley 1398-DDM-019-DN /A
Allen Bradley 150-F25NBDB /B
Siemens 6ES7414-2XG03-0AB0
GE Fanuc A06B-6240-H106 /F
Allen Bradley 2711-M3A18L1 /A
GE Fanuc IC695CPE310-ABAN
Allen Bradley 2711P-T15C4D7
Allen Bradley 1747-L551 /D
Mitsubishi Electric HC-SF102BK
GE Fanuc IC693TCM302B
Allen Bradley 2094-BM02-S /C
GE Fanuc IC695CPE310-ABAH
Allen Bradley 20BD040A0AYNANN0 /A
Allen Bradley 20BD034A0AYNAND0 /A
Allen Bradley 1769-L33ER /A
Allen Bradley 2711-K5A2
Allen Bradley 1794-ASB
ProSoft Technology PS69-DPS PS69
Siemens 6AV6644-0AA01-2AX0
Allen Bradley 1391B-AA22
Allen Bradley 2711-K5A2 /H
Allen Bradley 1771-NIV /A
Allen Bradley 1797-IBN16 /A
Allen Bradley 1771-NT1 /A
| | |
| --- | --- |
| GE | DS200TCQAG1BGD |
| GE | DS200TCDAH1BGD |
| GE | DS200PCCAG6ACB |
| GE | IC698PSA100 |
| GE | DS3820LT4A.1C1A |
| GE | DS3800NOAA1F1D |
| GE | DS3820LT4A.1C1A |
| GE | IC600LX624L |
| GE | IC600CB526R |
| GE | IC697MDL940 |
| GE | TGT-AIOV-8-0 |
| GE | MTR-3T45-H-R-0-M-0-A |
| GE | TGT-000A-4-0-AA |
| GE | TGT-000A-4-0 |
| GE | 78004654B |
| GE | MTR-3T45-H-R-0-M-0-A |
| GE | TGT-3X6L-1-0 |
Our company has many products in stock,which are immediately available.The warranty is 1 years which apply to all the new products.If you purchase one more parts from us,we can make a discount to you.
If you have any question pls do not hesitate to contact us.We can supply all kind of the automaiton parts,if you want to purchase parts pls send the parts model to my mail, I will prompt reply you.
Hope anyone enquire from us.
---
---